Toontrack's EZdrummer is one of the most popular drum instruments around, and for good reason.
The multi-microphone drum sampler is easy to use, yet it has plenty of features for advanced tweaking. The EZdrummer package comes with an extensive MIDI library (8,000+ patterns), a mixer which allows stereo and multitrack routing, and a number of wonderfully captured instruments.
EZdrummer also allows you to use additional drum kits with EZX expansion packs.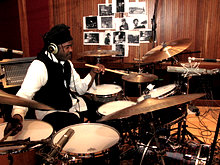 Toontrack's latest offering is the Jazz EZX, featuring drum sounds performed by Roy "Futureman" Wooten, inventor of the Drumitar, and member of Béla Fleck and the Flecktones.
Futureman is a multiple Grammy award winning composer, inventor, and multi-instrumentalist who has been a pioneer in using sampled drums since 1985. He has shared the stage and numerous albums with many Jazz legends.

Roy started playing acoustic drums as a young child with his brothers in Virginia. From that he has come a long way and is now renowned for playing what is called a SynthAxe-Drumitar to trigger drum samples.
Jazz up your EZdrummer
Installation of the Jazz EZX is easy. Just launch the installer from the DVD and sit back for a bit. Registration and authorisation is a piece of cake as well. Note that all the EZX files are automatically copied to the location of your EZdrummer library (which you can set in the custom installation option in the EZdrummer setup).
Once installed the Jazz EZX is available from the dropdown list in the top bar in EZdrummer. Here's what it looks like.
The drum kits include instruments from Pearl, Ludwig, Leedy, Masterworks, Gretsch, Slingerland, Paiste and Zildjian. The complete list is available from the product page.
Recording of the drums was done at Blackbird Studios in Nashville, USA, using a Neve 8078 console and an abundance of quality microphones (Neumann U47, RCA 44, NS-10, Shure SM57, AKG C12, AEA 88, Royerlab SF12 & R-121). You can watch a video of "the making of" here.
Besides the drum samples, Jazz EZX also comes with almost 1,000 additional MIDI patterns for your EZdrummer MIDI library. Although you might expect the grooves to have been played by Roy, this is not the case. Instead David Haynes (who has performed with Stanley Jordan, Chaka Kahn, Prince, Mary J. Blige, and many others), Morgan Ågren (Frank Zappa) and Per Mikaelsson (Heel) are responsible for playing the MIDI patterns.
Here's a video of me playing around a bit with the Jazz EZX in Ableton Live 7 (sorry if it looks a bit chaotic, I'm a quick clicker).
The Jazz EZX expansion pack is available for purchase from various distributors for an MSRP of $89 USD / €69 EUR (my copy came from Time+Space where it's available for £55 GBP inc. VAT, which is only about 57 EUR with the current exchange rates).
So what do I think?
This EZX will obviously appeal to those who are looking for jazz drums. The sound of Jazz EZX is quite, er… jazzy, so no worries there. Jazz EZX delivers top notch drum sounds.
It is however slightly disappointing Toontrack didn't get Roy to play the MIDI grooves. It's one thing to capture the drum hits (done to a high standard indeed), but I feel it's the grooves that would actually represent Roy's touch, his heart, his philosophy and his unique approach to his craft.
That said, the provided grooves by David, Morgan and Per are great anyway, so thumbs up for those.
I'd say the Jazz EZX is excellent value for money and a great addition to your EZdrummer (or Superior Drummer) drum kit collection.
Visit Toontrack for more information and audio demos.