Although its PADS and ARPS libraries for Kontakt & Kontakt Player just launched last June, Umlaut Audio is not exactly a new player. The company has years of experience in designing fully customizable virtual instruments and samples for some of the world's most famous musicians, composers, producers and sound designers.
Today I'm taking a look at the PADS library, a virtual instrument for creating cinematic musical textures.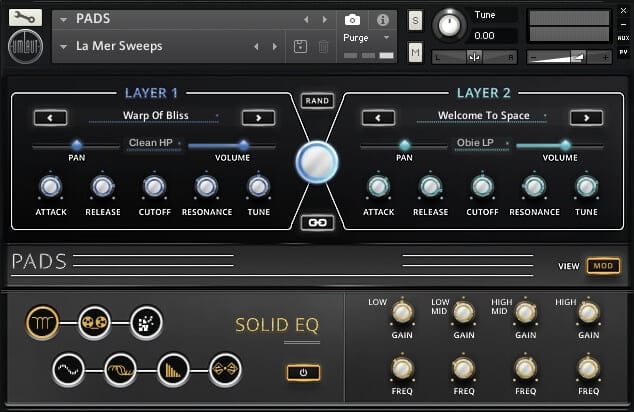 Combining multiple layers of unique samples, PADS provides natural and organic sounds that tastefully build, adding a new level of emotion and excitement to your compositions.

The instrument has been designed to be easy to use in order to get you up and running quickly, with over 140+ uniquely developed presets to choose from.

Sculpt and shape the layers to your needs with envelopes, modulators, step sequencers, creative FX, and randomization options.
PADS is basically a hybrid pad synth, consisting of 2 layers that can be mixed to get a rich texture. A large knob in the middle of the interface lets you crossfade between both layers.
For the sound source of each layer, you simply pick one of the available pads and overtones from a dropdown list, or you can assign one of the 80+ sounds at random for each layer with the click of a button.
Each layer has its own controls for volume and panning, a multi-mode filter (13 types) with cutoff & resonance, attack and release, and tune. You can also link the layers so you end up with identical values for each layer when editing the parameters.
The bottom part of the interface has an effects section with an equalizer, tape saturator, lo-fi bit crusher/reducer & noise, distortion, modulation (chorus, flanger, phaser), delay, and a convolution reverb with some 20 impulse responses.
To create more dynamic, moving and evolving sounds, there is a modulation section available with 3 individual modulator slots. A button in the middle right of the interface lets you switch between the mix and mod screens.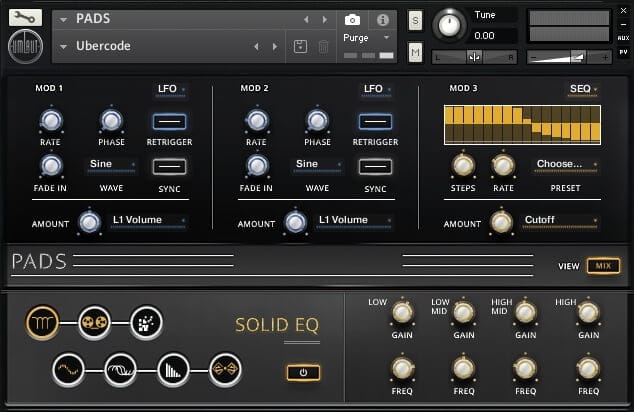 Each modulator can be set to ENV, LFO or SEQ, with various parameter controls available:
ENV – attack, decay, velocity, sustain, release, and a random button.
LFO – rate, phase, fade in, LFO waveform, and retrigger & sync buttons.
SEQ – step sequencer with up to 32 steps, rate, presets, and a zoom function.
The mod destination and the amount of modulation applied is set in the bottom of each modulator slot. The destinations include volume, pan, tune, filter cutoff & resonance, and you can set these globally or for a specific layer.
Check out the video below for a great overview of PADS.
PADS is NKS-ready, so Komplete Kontrol and Maschine users can access snapshots and use the custom mapped control knobs for additional ease of use.
So what do I think?
There is certainly a cinematic feel to the sounds in PADS, and with its simple, thoughtfully designed interface, it's a breeze to use. So I think Umlaut Audio succeeded in its aim of PADS being an intuitive, easy to use library for media composers.
Of course you can use this library for any type of electronic music. Some of the included presets remind me of Boards of Canada.
I have to say I'm really impressed with PADS. On their own the sounds might seem somewhat understated, but with the layered system with effects and modulation, you can get some wonderfully rich textures. I love the randomize options, which allow you to experiment and get great results fast.
At a price tag of $149 USD, the PADS library is perhaps not the cheapest option out there, but it's definitely a valuable tool to anyone looking to get quality pads with little effort.
More information: Umlaut Audio PADS