You may or may not have heard of electronic musician, producer and sound designer Richard Devine, but there is a good chance you have heard some of his sounds anyway.
Richard has released his music on labels such as Schematic, Warp Records and Detroit Underground, and his new album is scheduled for release on November 2nd. For the tracks on the forthcoming "Sort\Lave", Richard used a custom built Eurorack modular system.
This kind of thing:
Richard has also created many presets for popular hardware and software synthesizers and his work appears in commercials, films, games and more. Most recently, he has been working on making the new Jaguar cars sound like spaceships.
Anyway, back to this review!
UVI's latest Falcon expansion pack Devinity features a collection of 120 presets with Richard's signature sound.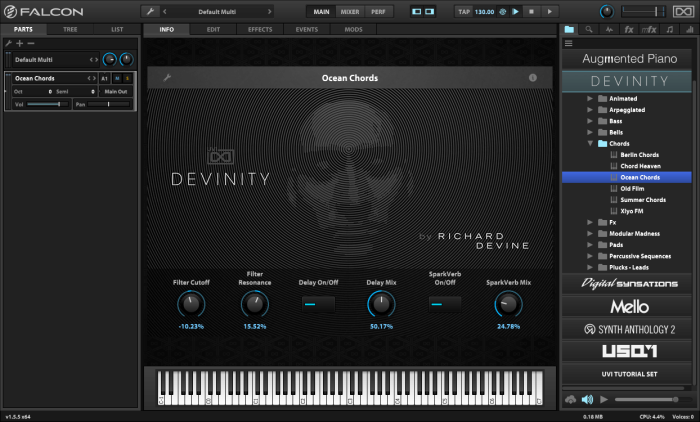 Is it me or does that actually look like Nicolas Cage?! If you move around the interface (or scroll this page up and down a bit) you'll also notice the forehead will start to radiate… pretty hypnotic!
The sounds in the pack are categorized as follows:
18 Animated
8 Arpeggiated
13 Bass
4 Bells
6 Chords
14 FX
24 Modular Madness
12 Pads
7 Percussive Sequences
14 Plucks & Leads
Here's what Richard has to say about his approach to making these sounds.
I have been making music and using Falcon in my sound design projects. My goal was to create interesting new textures and sounds that I would want to use in my own musical compositions and projects. So I would create the sounds then test them in different tracks to see how they were working.

I wanted them to be very playable but at the same time have lots of animation and movement. It was challenging to get the right balance but in the end, I was very happy with the results.
As you might expect, the patches in this pack are not exactly bread and butter type sounds. Experimental is the key word I would say.
Richard really took advantage of the synthesis and sample manipulation features of Falcon—such as its FM and wavetable oscillators and IRCAM multi granular instrument, modulating the heck out of many parameters to create complex and totally unique patches.
All the more impressive is the fact that these sounds are, for the most part, very playable. Not looking at you Modular Madness…
The interface comes with useful macro knobs that will let you manipulate the sound with ease, and if you're feeling adventurous you can learn a lot by popping the hood of Falcon and taking a deeper look into how these patches were constructed.
Check below for a small selection of the sounds included in the set.
The expansion is available for 39 USD/EUR.
So what do I think?
The patches in the expansion are generally quite complex and experimental in nature. Inherently, Devinity is not going to be everyone's cup of tea.
That said, Richard is a proper sound design wizard and this expansion is pretty amazing! Many of the patches have lots of modulation of various parameters, resulting in very dynamic sounds. I really enjoy the unique sound signature and out of this world programming.
The collection is great for underscore or anything cinematic. If you're open to something different, Devinity certainly delivers high quality sounds that will enrich your music or audio projects!
More information: UVI Devinity