Rhythmic Robot has released Poly 770, a Radiophonic Workshop-style synthesist's delight, fusing a fully polyphonic Korg 770 to a selection of sophisticated controls.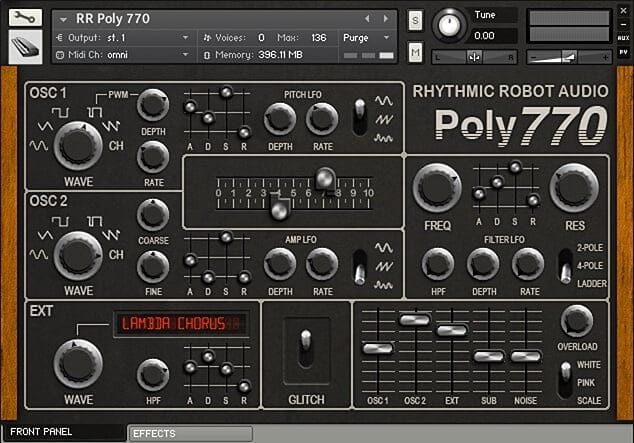 Poly 770 is a deep, complex Kontakt synth based largely around Korg's old analogue 770 monosynth. But we've taken that starting point and really run with it: full polyphony of course, three oscillators plus noise plus sub, multiple noise sources, five filters including convolved models of the original Korg 770's "Traveler" circuit, virtual PWM, and a selection of 25 fully-fledged patches available as External inputs (effectively, these are your third oscillator – and they come from such classics as the Korg PolySix and the Korg Lambda, adding instant richness and depth to the 770-based oscillators).

The sound is decidedly quirky, with an airy, gritty tonality and a BBC Radiophonics Workshop kind of attitude. If you want to push it into lush, swelling richness, you can do that by dialling up one of the pre-rolled External Input oscillators; but Poly 770 really excels at grainy, slightly edgy sounds which are great for adding texture without cluttering up the midrange of your mix. You may have spotted that only Korg instruments went into the making of this beast, so there's a very pronounced and distinctive "family sound" to the thing.
The Poly 770 for Kontakt v4.2.3 or higher (full version) costs £25 GBP.
More information: Rhythmic Robot / Poly 770