Rhythmic Robot has released SteamPunk, a Kontakt instrument library that offers bellows-driven pipes, reeded tubes and anbaric circuits all working in harmony.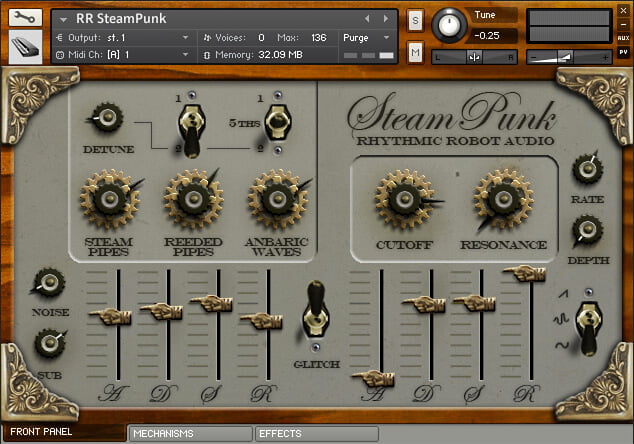 SteamPunk is ideal for sound design, scoring or just adding instant inspiration and a leftfield patina to any genre.
Drawing its inspiration from alternative universes and alt-Victorian gothic excesses (with a bit of H G Wells thrown in for good measure), SteamPunk is a Frankenstinian mashup of barrel organ, steam machine and electrical synthesiser – the perfect instrument for serenading the night-ghouls of Paris as you drift safely above them in the gondola of your hot-air balloon. Or something like that. However you choose to use it, we think it sounds pretty cool :lol:

Three primary oscillators (based on reeded pipes, steam pipes and anbaric waves), plus noise and sub, secondary tuneable / detuneable oscillators, and a whole pane of Mechanism noises including bellows, attack chiffs, creaks and various kinds of instability, all add up to a strange and wonderful wormhole-universe version of a classic synthesiser.
SteamPunk for Kontakt 4.2.3 or higher (full version) is on sale for 20 EUR + VAT (regular 25 EUR).
More information: Rhythmic Robot