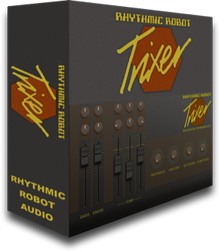 Rhythmic Robot has announced the release of Trixer, a Kontakt emulation of the Simmons Trixer, a drum-triggering module from the 80s (and early 90s) packed with authentic Simmons SDS sounds.
Drawing on the library of classic drum tones which had powered the hexagonal Simmons pads and "brains" from the preceding decade, the Trixer repackaged these into an audio-triggered mixer (hence "Trixer"…) In practical terms, it was an excellent way of getting THE Simmons Sound at a budget price.

Our recreation samples the original Trixer at 24-bit, with multiple round-robin samples to preserve its natural variation in sound. There are four kits to choose from: Rock1, Rock2, Jazz, and the mighty Electronic kit – instantly recalling 80s-era chart toppers from Phil Collins, Ultravox, Pink Floyd, Culture Club, Prince, Sigue Sigue Sputnik, Talk Talk, Van Halen and more… basically, at some point everyone had some fun with a Simmons kit! Full control over kit-piece tuning, level and pan is presented nice and simply on the front panel, while a compliment of basic effects (saturation, distortion, bitcrushing and compression) allow you to sculpt the sound – a bit of compression gives you that instant "big 80s rock" sound. To round things off, we discovered a glitch in the hardware that allows a "rolled snare" sound to be triggered accidentally; of course, we sampled it and it's now fully user-controllable.

Trixer is an ideal way to add the much-loved (?!) sound of the 80s to your tracks.
Trixer features
All four kits of the Simmons Trixer.
Simmons SDS sounds.
Rock1, Rock2, Jazz and Electronic kits.
Multiple round-robins capture all the nuance of the original.
Additional "rolled snare" sound.
Trixer is availableto purchase for £5.95 GBP. It requires Kontakt to run, and is compatible with Kontakt 4.2.3 and later (including all versions of Kontakt 5). It's not compatible with Kontakt Player.
More information: Rhythmic Robot / Trixer