Rhythmic Robot has announced the release of Uproar, a unique distortion-based analogue synthesizer instrument for Native Instruments Kontakt.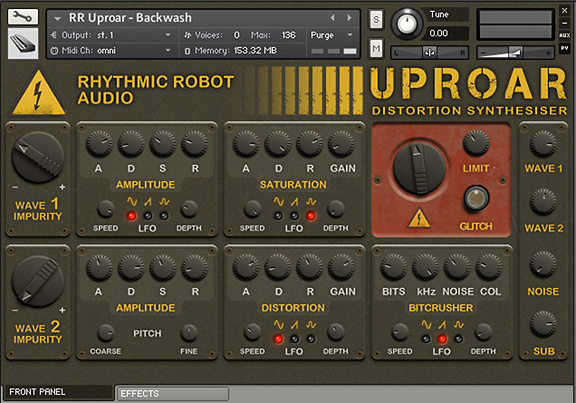 Continuing our campaign to rid the world of same-sounding soft synths, we bring you Uproar – a machine that turns traditional analogue synthesis on its head. Instead of filtering harmonically rich waves, Uproar distorts and energises smoother waveforms until they break free of their restraints and go rampaging through downtown New York, smashing everything in their way.

Uproar doesn't just add distortion – it puts that distortion under the control of ADR envelopes and dedicated LFOs, so that you can create evolving synth patches full of movement and character. Want your pad to have a slowly-building glow of saturation at the same time that its bit depth is spiralling up and down via a sinewave LFO? Want your lead to scream and then subside as its Distortion gain is automatically reduced? Want your synth lines to emerge gradually from a burbling fizz of reduced bits? We've got you covered.

Uproar doesn't just do angry. It can also take trad subtractive synth staples and give them a new lease of life, giving you classic sounds with a fresh twist. It's great for adding air and harmonic overtone to your sound (with no filters, you never lose that high-frequency breathiness). It can be surprisingly subtle at times (but ssshh, don't tell it). The base waveforms blend between smooth sines and more complex, erratic waves which we made by eBowing an electric guitar strings: great for more organic, uneven sounds.
Uproar features
Twin detunable waveform generators: blend between pure sines and erratic, complex eBow guitar strings.
Three independent distortion types under LFO and envelope control for moving, shifting, evolving harmonic spectra.
Perfect for high-energy, aggressive synth sounds, or subtler tones with an unusual, airy edge.
Uproar is available at an introductory 15% discount until March 13th, 2015, after which it will be £20 GBP plus VAT.
More information: Rhythmic Robot / Uproar