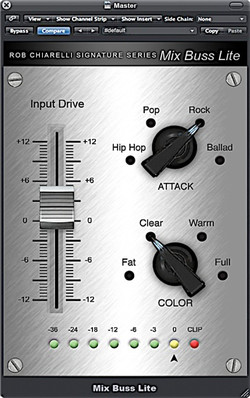 Rob Chiarelli has released Mix Buss Lite, an Signature Series effect plug-in designed for mixing.
The three most common questions I am asked are:

"How can I get my mixes to sound like a record?"
"How can I get my mixes to be LOUD without sounding over-compressed?"
"How do you get the bottom end right?"

My new Mix Buss Plug-ins are the answer. For years, mix engineers have been using certain signal chains, compressors and EQ's to infuse magic into their mixes. A simple, easy to use version of this is now available in my new Mix Buss Lite Plug-in.

Do these plug-ins sound great on everything? Actually, yes. They do. If they didn't, I wouldn't put my name on them. Simple as that.
Mix Buss Lite for Windows and Mac (32/64-bit, VST/AU) is available to purchase for $19 USD.
More information: Final Mix Software