Rob Papen has announced the release the Rack Extension version of RP-EQ, a mastering and channel equalizer effect with built in spectogram.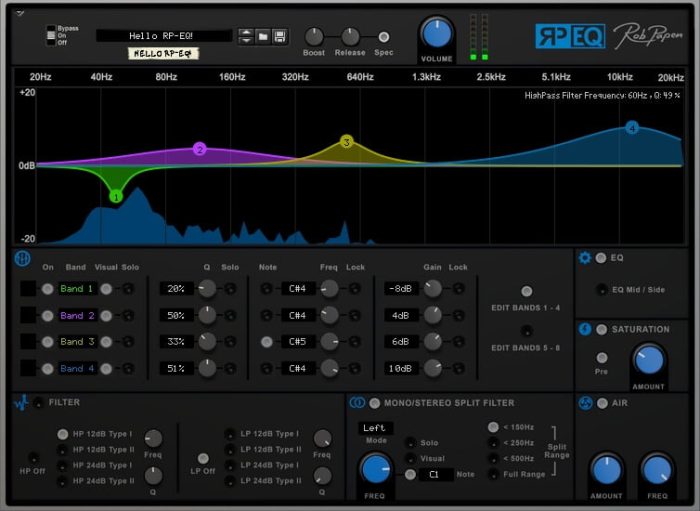 Today there are a number of different EQ's available…so why another one? Well, Rob Papen is all about sound and he was convinced he could add something great to the Reason Rack Extension EQ world!

When you open RP-EQ in your Reason Rack you will see that it is far from a bread-and-butter equalizer and several unique elements were added to the core equalizer unit. The toolbox now includes a MONO/STEREO Split filter, which is used a lot in modern EDM/Dance music to get a very tight low end. The Air section is also fantastic on your master channel to open your mix in a stunning way.

And in true Rob Papen style, RP–EQ comes with many great Presets including contributions from several well-known DJs and Producers for instant user inspiration.
RP-EQ RE costs 69 EUR.
Also released is RP-Spec, a free spectrogram Rack Extension for Reason.

A spectrogram is a visual representation of the spectrum of frequencies in a sound or other signal as they vary with time.
The RP-Spec spectrogram displays the input and output signal as an FFT Spectrogram, a 30 band (1/3 octave) Bar Spectrogram or a 30 band (1/3 octave) Single line Spectrogram.

RP-Spec has several display modes and is a free RE plug-in for Reason 9.2 (or higher) users.
More information: Rob Papen