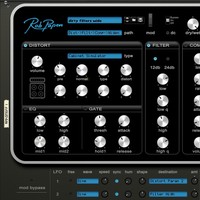 Rob Papen has updated the RP-Distort Rack Extension for Propellerhead Reason to version 1.0.1.
RP-Distort is not just a distortion unit, but much more. The distortion unit inside RP-Distort can be combined with an analog modeled filter, compressor and widener unit.

On top of that, the controls can be modulated using midi sources or by one of the 4 build in LFOs that can sync to your host tempo..

The distortion unit offers 22 distortion types included ring modulator and lo-fi. RP-Distort is a wicked FX unit that will distort or alter your tracks in an inspirational way.
Changes in RP-Distort RE v1.0.1
Fixed Problem with 'ghost lanes' during automation.
Bypass moved in Combinator to a more standard position.
Fixed LFO Speed readout.
Improved LFO precision.
Widen at zero amount should have no effect.
Other small fixes.
The RP-Distort RE is available to purchase for 29 EUR / $35 USD.
More information: Rob Papen / RP-Distort RE