Roland has announced an all-new series of ultra-portable instruments with free-flowing features for creative exploration and authentic Roland sounds. Fun, affordable, and easy to learn, the AIRA Compact series T-8 Beat Machine, J-6 Chord Synthesizer, and E-4 Voice Tweaker bring serious musical power to everyone from hobbyists and gadget collectors to tech-savvy pros.
AIRA Compact instruments let anyone jam, perform, and develop ideas on the go with friendly controls, inspiring sounds, and loads of intuitive music tools. Users can realize complete compositions with a single unit or expand their possibilities by connecting and synchronizing with other AIRA Compact models. From one master unit, multiple AIRA Compacts can be mixed and monitored with headphones or an external speaker system. It's also possible to interface with computer DAWS, mobile music apps, and hardware instruments via USB-C or MIDI.
Driven by Analog Circuit Behavior (ACB) and other advanced technologies found in top-line Roland instruments, AIRA Compact delivers the real-deal sounds behind decades of hit music. Users can create with the genuine voices of Roland icons, including TR rhythms, TB basses, JUNO synths, VT effects, and more.
AIRA Compact strikes the perfect balance between portability and power. Each model is small enough to slip into a pocket and features an inviting panel to jump-start the creative flow for immediate results. Onboard lithium-ion batteries provide hours of continuous use per charge, while Roland's famous build quality will support musical adventures for years to come.
T-8 Beat Machine
The T-8 Beat Machine combines iconic Roland drum and bass sounds in a go-everywhere rhythm factory. Beatmakers can build tracks with legendary sounds from the TR-808, TR-909, and TR-606 drum machines, paired with the shapeshifting low end of the dynamic TB-303 Bass Line.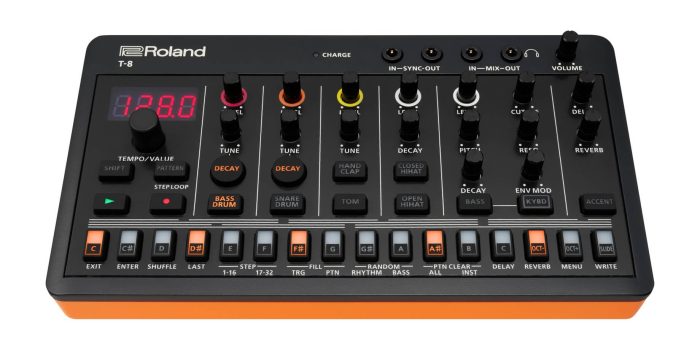 The six-track drum sequencer features the famous TR-REC workflow, enhanced with deep tools like step loop, pattern shift, probability, and others to generate dynamic performances with constantly evolving grooves. The T-8 also provides an authentic TB-303 bass experience, including the tactile power to squeeze, squelch, and mangle sounds in the moment.
J-6 Chord Synthesizer
The J-6 Chord Synthesizer is an endless well of musical inspiration, pairing a powerful chord sequencer with the lavish tones of the renowned JUNO-60 synth. Creators don't need to know chords or theory to make music—they can simply call up one of 100 chords sets and build compelling chord progressions with one-touch presses on the built-in keyboard.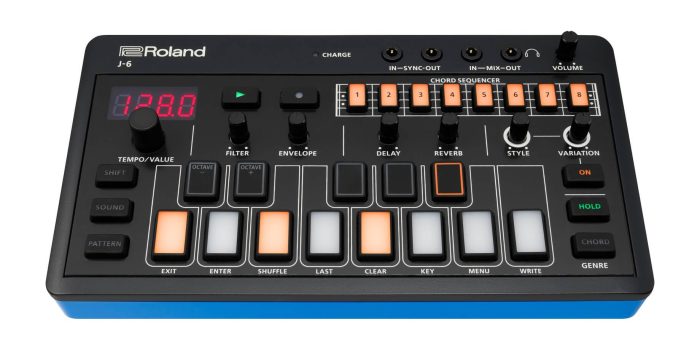 Styles and variations are also available to coax dancing lines and rhythmic patterns from chords. Users can quickly string progressions together via step input, tweak the sound with dedicated filter and envelope controls, and add polish with customizable delay and reverb effects.
E-4 Voice Tweaker
The E-4 Voice Tweaker combines advanced voice transformer tools and standard vocal effects with a hands-on interface that's meant to be played. Performers can go from traditional vocal enhancements to punchy beatboxed grooves to striking alien soundscapes—all in a single tune.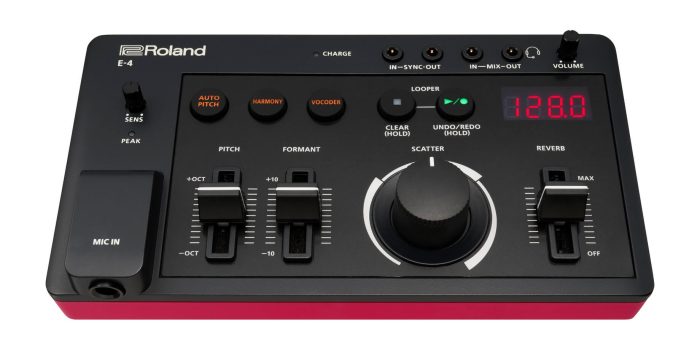 Pitch and formant sliders are available to instantly change the vocal gender, create robot voices, and more. Auto Pitch, automatic harmony, and vocoder processors are included, along with reverb, delay, and other effects. There's also a built-in 24-second looper for capturing performances on the fly, plus a unique Scatter function for slicing and dicing the sound via a dedicated panel knob.
The Roland AIRA Compact series is now available in the U.S. for $199.99 USD each.
More information: Roland