At the NAMM Show, Roland has announced the new TD-27KV V-Drums, a new mid-level electronic drum kit in the acclaimed V-Drums lineup.
Equipped with advanced digital trigger pad technology and the latest V-Drums sound engine, the TD-27KV brings serious drummers premium playability and flagship-level expression at an affordable price.
The TD-27KV kit is based around the powerful new TD-27 module, which features a host of next-generation technologies derived from the top-of-the-line TD-50. Roland's Prismatic sound engine combines curated samples with advanced behavior modeling refined over two decades, delivering an incredibly expressive and natural experience.
Equipped with more than 700 instruments, 55 preset kits, and 100 kits in total, the tonal range of the TD-27 is rich in variety. Via an intuitive user interface, drummers can access kits at the turn of a dial and quickly adjust instrument sounds with four simple controls.
Advanced PD-140DS snare and CY-18DR ride pads offer sophisticated multi-sensing that works with the TD-27's digital trigger inputs and fast, high-resolution processing to provide the most lifelike, resonant, and expressive sounds possible, plus support for natural techniques with cross-stick detection, ride cymbal muting, and more.
The kit also includes three PDX-100 tom pads with Roland's famous multi-layer mesh heads, CY-12C and CY-13R cymbal pads, a VH-10 V-Hi-Hat, and a KD-10 kick pad.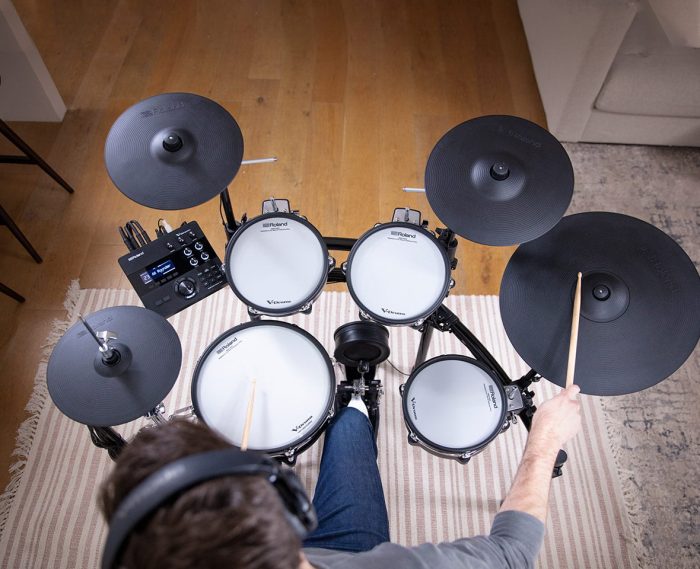 Users can customize the TD-27's large onboard sound selection to a deep level. It's also possible to import WAV samples via an SD card and freely combine them with built-in sounds. The module offers a stereo mix output and two assignable direct outputs, providing flexible connectivity for stage playing.
Additional trigger inputs are also available (one digital and three analog), making it easy for a player to expand their kit with additional pads and cymbals. For studio and home recording, the TD-27's advanced USB interface provides up to 28 individual audio channels for multi-track integration with any DAW.
V-Drums modules are renowned for their convenient practice features, and the TD-27 is no exception. Onboard Bluetooth allows drummers to wirelessly stream music from their phone through the module and play along. An analog mix input is provided as well, and incoming sounds can be blended easily with a dedicated panel knob.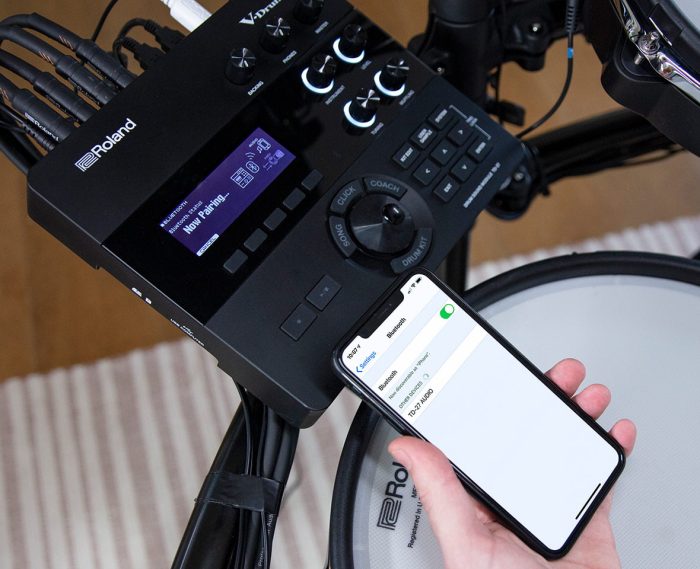 There's also a wide selection of Coach functions to help build timing and other basic skills, and users can record performances at any time with the touch of a button. A new dedicated audio circuit for monitoring the TD-27 sound module with headphones provides clear and balanced sound quality, making each practice and playing session a comfortable and enjoyable experience.
The Roland TD-27KV is available for $2,999.99 USD. The TD-27 will be available for $1,199.99 USD in May 2020.
Roland has also introduced the V-Drums Acoustic Design series, a brand-new product category within the renowned Roland electronic percussion lineup.
V-Drums Acoustic Design presents a different kind of V-Drums experience, merging the alluring presence of acoustic drums with Roland's world-leading digital percussion technology. For traditional drummers, V-Drums Acoustic Design opens a world of possibilities with the benefits of V-Drums—without having to sacrifice the classic acoustic vibe they know and love.
The powerful union of Roland's long technological development history with top-tier acoustic feel and appearance gives every player an electronic drum set they will be proud to own.
V-Drums have always provided the most natural electronic drumming experience available, offering behavior that accurately models the response of real acoustic drums.
V-Drums Acoustic Design kits deliver the authentic look to match, with full-size wood shells, custom heavy-duty chrome shell hardware, thinner cymbals, standard acoustic mounting, and more.
Every kit projects the premium look of high-end acoustic drums, providing a familiar presence that's the centerpiece of any stage.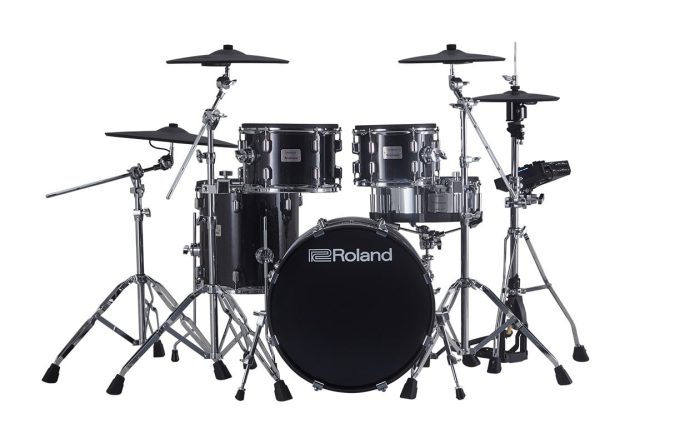 Playing a V-Drums Acoustic Design kit has a feel that's uncannily acoustic, with the comfortable dynamic interaction of a traditional set.
Advanced shell sensor systems eliminate hot spots and ensure the kick and toms behave just like their acoustic counterparts. Streamlined crash cymbal pads offer improved stick feel and swinging motion, thanks to a 40-percent reduction in thickness compared with previous generations. The range-topping V-Drums Acoustic Design 5 Series kits also feature digital snare and ride pads, which work with the TD-27 module's speedy processing to provide high-res definition and unparalleled creative expression.
The V-Drums Acoustic Design lineup includes three different kits with varying configurations. The premier VAD506 and VAD503 kits feature the TD-27 module, full-size kick and toms, and a digital snare and ride.
The more affordable VAD306 kit includes the TD-17 module and features kick, snare, and toms with shallow wood shells, making it ideal for drummers who want genuine acoustic look and feel in a compact, space-saving footprint.
The Roland V-Drums Acoustic Design series will be available May 2020:
VAD306 $2,499.99 USD.
VAD503 $3,999.99 USD.
VAD506: $4,799.99 USD.
For a hands-on demo of Roland products like the V-Drums Acoustic Design series and TD-27KV V-Drums, visit Hall A at The NAMM Show in Anaheim, California, at booth #10702.
More information: Roland