Roland has introduced the Beat Sync Maker iOS app, a tool for DJs and EDM artists looking to pair professional visuals with their music.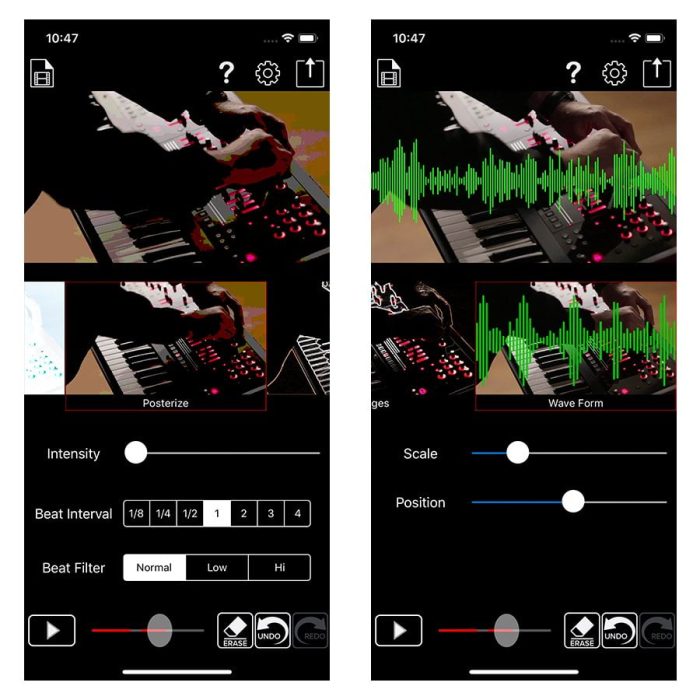 Professional EDM and DJ music videos often include impressive visual effects and scene changes that fall in sync with the beat. Artists looking to bring these techniques into their own productions have often required a computer-based editor and some serious technical skills, but Roland's Beat Sync Maker app for iOS changes all that, letting users bring a pro look to their smartphone performance videos with very little effort. Instead of relying solely on fixed angles that focus on hands over drum machines, controllers, and synths, artists can now infuse their music performances with polished visual effects that make their videos more engaging for a wider audience.

Beat Sync Maker automatically detects the beats in a performance and adds all sorts of custom video effects that stay in perfect time with the music. Going further, users can also drop in movie clips from their device with the app's 2-Video Mix function. Via a simple and creative process, users are able to transform a video in minutes, save it to their device, and post it to social media. With Beat Sync Maker, it has never been easier to bring a professional touch to EDM and DJ performance videos.
Roland Beat Sync Maker features
App automatically detects the beats in music videos with ABS (Auto Beat Sync) technology.
This tool is perfect for enhancing EDM or DJ performances with edgy beat-synced video effects.
Users can choose from five visual effects types and apply the timing they want during playback.
Users can easily adjust the effect depth with an onscreen slider.
2-Video Mix function allows users to cut in movie clips from their iPhone/iPad camera roll; 18 pre-installed movie clips included.
Free version exports videos up to 30 seconds long; full export functionality available with an in-app purchase or connection to GO:MIXER PRO or GO:MIXER.
App is compatible with iOS 11 and later.
The app is now available for download from the iTunes App Store.
More information: Roland