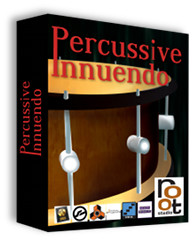 Root-sounds has launched Percussive Innuendo, a multi-format percussion library featuring over 2,000 samples mapped for EXS24, NI Kontakt, Reason NNXT and ProTools Structure.
You can never have too many percussion sounds. Percussive Innuendo is the perfect way to expand your existing percussion library with instruments or playing techniques not found in most libraries. For example, Tam-tam hits or rolls are great, but how about the dramatic effects you get from bowing and scratching for instant mystery or horror scores. For better blending, there are, of course, also normal soft and loud hits. We have also included some rare sounds, like a siren which is called for in very few orchestral scores (like Ionization by Edgar Varèse).

We were fortunate to be able to raid the percussion rooms of the Munich Philharmonic Orchestra. These sounds make up the bulk of the library, but you also get selected sounds from the collection of the University of Victoria, B.C., Mills College, California, as well as private collections.
Percussive Innuendo Gold edition (contains dry and wet versions) is available to purchase for $89 USD, a Standard edition (wet versions only) is $59 USD.
More information: Root-sounds / Percussive Innuendo