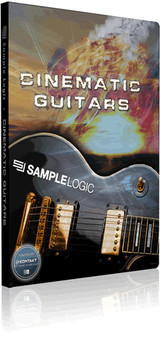 Sample Logic has announced Cinematic Guitars, a new virtual instrument powered by Native Instruments Kontakt Player.
Sample Logic's award-winning team presents a powerful collection of morphed guitar instruments harnessed in a remarkably adaptable "core effects sequencer" engine powered by the Native Instruments Kontakt Player. Derived entirely from true electric and acoustic guitar recordings by guitar guru Steve Ouimette (known for his work on the Guitar Hero franchise) this library is not a traditional guitar sample library, rather, it is an extensive collection of atmospheres, instrumentals, and percussives unlike any ever heard before. Taking it one step further, Cinematic Guitars gives users the power to create and manipulate custom instruments using the first ever "core effects sequencer" designed by Sample Logic and built into the Kontakt engine.

This library is all encompassing, exploring infinite timbres and emotions through its unprecedented collection of over 1000 instruments and multis, starting with bizarre, dark, euphoric, spiritual, electronic sounds and going far beyond.

CINEMATIC GUITARS is geared for film, TV, game, and electronic composers.
Cinematic Guitars features
Over 1,000 instruments and multis recorded and processed at 48k/24 bit, delivered at 44.1k/24-bit.
9 GB sample library (uncompressed), 5.8 GB via Kontakt's lossless sample storage compression.
Instruments include:

Atmosphere/ambient soundscapes and stinger construction kits.
Morphed guitars, synths, and pads.
Melodic and percussive tempo-synced loops.
Melodic and percussive arpeggiated/gated instruments.
Percussive impacts, big hit ensembles, and kits.
Swipes, scrapes, and reverse transitional effects.

Performance-ready multis (playable interactive preset templates made from multiple instruments).
Over 125 score-ready multis.
Additional multis included in Cinematic Guitars were created by award-winning composers: Bill Brown (CSI NY, Wolfenstein [VG], Rainbow Six [VG], Ghost Recon [VG]), Jesper Kyd (Assassins Creed I & II [VG], Unreal Tournament [VG], Splinter Cell [VG]), Trevor Morris (The Tutors, The Hills Have Eyes II, Pirates Of The Caribbean II, Stealth, The Island), Deane Ogden (Hit List, The Way Home, Surrogates, The Sensei), Atli Örvarsson (Vantage Point, Babylon AD, The Fourth Kind), Chad Seiter (Fringe Season 1, LucasArts' Fracture, LOST: Via Domus, UP [VG]), Steve Tavaglione – Performer & Sound Designer (CSI: Las Vegas & New York, Finding Nemo, Wall-E, Revolutionary Road).
Cinematic Guitars for Kontakt Player 4.1.1 or higher is available to pre-order for $399.99 USD. The product ships September 15th and the direct download version will be available September 22nd.
More information: Sample Logic / Cinematic Guitars