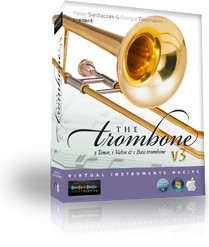 Samplemodeling has announced the release of Trombone 3, a virtual trombone instrument created by Peter Siedlaczek and Giorgio Tommasini.
The Trombone 3 further expands Samplemodeling™ technologies. Multi-microphone anechoic recording allows to capture the original timbre of the instrument, along with its radiation pattern. Our proprietary "Harmonic Alignment" yields continuous transitions across virtually infinite dynamics. Specially devised "early reflections" impulse responses add proper virtual space to the anechoic sound.

The programming moves further away from conventional libraries, by exploiting physically-oriented modulation of the recorded sound. The result is a playable, very expressive virtual instrument retaining the rich, full sound of a real trombone.
Trombone 3 features
New Early Reflections algorithm.
Virtual Soundstage, including distance control.
Real time Timbral Shaping.
Microtuning.
Expression Mapping.
Breathy Attacks.
"For Unison Ensemble" Impulse Response.
Unison Ensemble Multi.
Trombone 3 (includes three Tenor, one Valve and one Bass Trombone) is available to purchase for 159 EUR. Trombone 1 owners can purchase the new Trombone 3 for 30 EUR.
In addition, all customers who bought the Trombone 1, whether alone or in a bundle, after June 30th 2013, are entitled to purchase the Trombone 3 for only 20 EUR. Prices excl. VAT.
More information: Samplemodeling / Trombone 3