Get your samplers ready, it's time for another sample remix contest!
If you have previously participated in one of these contests you know the drill: Compose a track using the samples included in the download only, for a chance to win some great prizes.
You may process the samples any way you like, as long as you don't use any additional instruments, samples, recordings, or other sound sources.
The download includes a total of 115 samples (24bit/44kHz WAV), including sounds contributed by Horatiu-Cristian Petrila of 3ee Sound Design.
The samples are basically all one-shot sounds, no loops this time. They are also deliberately without key information, the idea being that you explore the sounds and be inspired by what you find, rather than connecting the dots in a construction kit style approach.
Sample Remix Pack — Download size: 48.3 MB
The deadline for submitting your entry is April 7th, 2013, 11:59pm CET.
So what can you win?
Our friends at Time+Space have generously donated a wonderful selection of prizes from its partners, a value of well over $2,000 USD in total!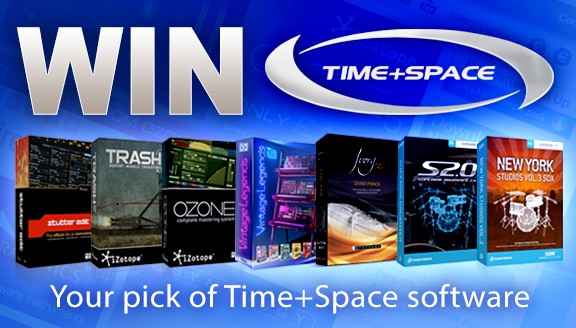 The top 3 winners will be voted for by participating contestants. The 4th prize will be awarded to a random entry from the contestants that did not end up in the top 3, so everyone who submits a track has a chance of winning one of the prizes below.
Toontrack: Superior Drummer + 1 SDX expansion of your choice.
iZotope: Bundle of Ozone 5, Stutter Edit & Trash 2 effect plug-ins.
UVI: Vintage Legends – Iconic Synth Collection.
Synthogy: Ivory Pianos II Grand Pianos, next generation in virtual pianos.
Note: Contest winners pick their own prize from the pool, so the list above is in no particular order.
Contest rules
You may only use the samples provided in the contest sample pack. No other sound sources are allowed. You may process and manipulate sounds any way you want.
Submit your entry in mp3 format (minimum of 192kbit) per email to contest@rekkerd.org before April 7th, 2013, 11:59pm CET.
One entry per person is allowed, you will receive a confirmation of your submission.
Your entry should be composed specifically for this contest. By entering, you grant permission for your track to be published at the rekkerd.org website, through SoundCloud.
In order to be eligible to win, contestants are required to vote for their top 5 within a week after the contest deadline. Contestants will be contacted to submit their votes. Note: you cannot vote for your own entry.
Winners choose a prize from the prize pool in order of placement (1st place winner picks first, then 2nd, etc.). All prizes are granted at the discretion of rekkerd.org. Some prizes may be subject to specific conditions imposed by the sponsor (e.g. NFR licenses).
Contest rules subject to change. If you have any questions feel free to ask or comment on this post.
Good luck!
Ronnie