Samples From Mars has launched a new sample pack featuring classic 80s drums from the Oberheim DMX digital/analog hybrid drum machine.
DMX From Mars also comes with some unique drum sounds sampled through the Akai S612 sampler.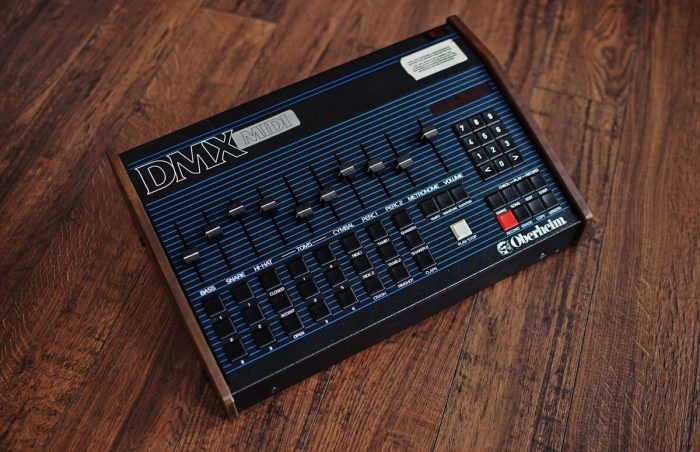 In an effort to retain the exact character and punch of the original machine, the recording process was kept simple. We tracked every hit through an API 512 preamp, to tape, and through an Apogee Symphony MKII. Each drum voice was tuned by hand (tilting back the hood of the drum machine and accessing the little thumb wheel) 24 times.

Once the clean samples were captured we did a round of processing to provide some color and RMS (loudness) to the kit. Using our trusty Overstayer Saturator in parallel, we added more harmonics and dirt to the attack; by EQing a little bass out before the saturation, and back in afterwards (via API EQs) we were able to really drive the midrange on things like the Toms. Through parallel hard clipping (Overstayer M-A-S), we increased the fatness of the Bass Drum; tightened the claps with an SPL Transient Designer, and used a tube EQ to darken drum various drum hits.

After sampling was complete, all of the hits were then chopped and painstakingly arranged into individual hits and 16x hit kits.
DMX From Mars features
2,200 24bit WAV DMX samples.
13 pre-made 16x hit kits for instant jamming.
Clean, Color, and S612 – sampled versions of all drum voices.
24 pitches per DMX drum hit.
DMX features: warm bass drums, crunchy snares, classic toms, hats, rides, crashes, rim, claps, shaker and tambourine.
DMX 612 features: filtered bass drums, Sub kicks, clipped snares, looped rimshots, reversed hi hats, LFO rides, airy hi hats and more.
DMX From Mars is available in various formats, priced at $29 USD.
More information: Samples From Mars