Sanford Sound Design has released version 2.1 of Sanford Bass Tightener, a completely rewritten version of the spatial effect plug-in, now also available for 64-bit VST hosts on Windows.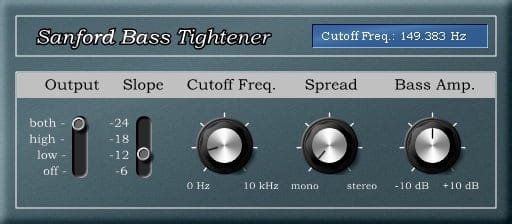 The Sanford Bass Tightener is a spatial effect for tightening up the stereo spread.

It allows you to set the frequencies below a certain specified frequency to mono, for example 120Hz, while allowing the higher frequencies to remain in stereo. This can help during mixing/mastering by keeping the bass tight and centered and the higher range nice and wide.
Sandford Bass Tightener features
Low CPU usage.
Four filter slopes.
Four output modes.
Adjustable bass amplitude.
Adjustable stereo spread.
The Bass Tightener plug-in is available for Windows (32/64-bit VST).
More information: Sanford Sound Design / Sanford Bass Tightener