Plugin Boutique has launched an exclusive sale on Boost, the dynamic processor effect plugin by Sample Magic.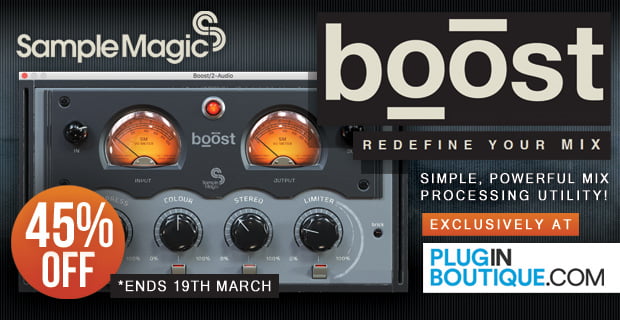 Simple, powerful mix processing utility designed to get tracks sounding as full, polished and loud as possible using a minimal amount of processing.

Boost is a simple, powerful mix finalising utility designed to get your music sounding as full and polished as possible using a minimal amount of processing.

Utilising cutting-edge low-latency DSP, Boost adds multi-band compression, 4-band equalisation, stereo enhancement, brickwall limiting and filters out inaudible low frequencies to give a fuller, louder and wider mixdown.
Boost features
Effortlessly bring your mixes and tracks up to a commercial level using studio quality processing which dynamically modifies your signal through a complex chain of professional effects.
Increase the 'punch' and impact of your signal while maintaining clarity and perceived dynamics.
Browse 64 unique Preset Modes spanning various styles of mastering, genres and work flows.
Easily bypass individual processing sections for quick comparison between processed and unprocessed sounds.
Detailed VU metering and Input / Output level along with easy to use volume compensation means making detailed comparisons between processed and unprocessed sounds.
Low CPU usage and latency.
'Boost' mode to re-order components for additional loudness!
'Brick' switch to ensure zero digital clipping.
Boost (VST/AU) is available from Plugin Boutique at a 45% discount until March 21st, 2017.
More information: Plugin Boutique