Plugin Boutique has launched an exclusive sale on Ohmicide:Melohman, a multi-band distortion processor by Ohm Force.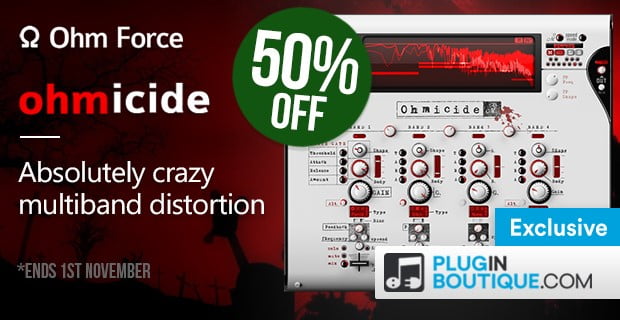 Ohmicide:Melohman takes the concept of multi-band distortion further thanks to a new, more versatile technology as well as a modern interface and live performance-oriented features.

But in the end, it's all about sound. From slight dirt to pure carnage, Ohmicide is the best sound killer ever.
Ohmicide features
Up to 4 bands, each with a heap of control over dynamics (compress, expand, gate), distortion (gain, type, bias and one extra disto-dependant control), pan (mid side mode included) and even a feedback generator (as in: "my guitar is too close to my amp because I like it that way, any problem sir ?").
37 disto types multiplied by 3 modes (standard, ampsim, odd) for each: yes, that's 111 distortions to pick from. This means you have all the classics (overdrive, puncher, bit crusher, etc.) and a heap of totally unique ones (Jelly Fish, Frozen, Hip, etc.) allowing you to work on "signature" sounds that truly will be your own..
Unique Melohman preset morphing technology. Use your MIDI keyboard to morph between presets live for spectactular transition or insane beat design.
State of the art UI. No "clip" on fine tuning your knob here, thanks to sub-pixel accuracy. Enjoy a slight bit of inertia for controle so good you won't touch your midi controler (midi bind still supported though).
Over 1000 presets for bass, guitar, drum, synth, vocal and general purposes.
Ohmicide for Windows and Mac (VST/AU/RTAS/AAX) is on sale for just 49 EUR until November 1st.
More information: Plugin Boutique / Ohmicide:Melohman