Plugin Boutique is offering a 50% discount on four selected Meldaproduction audio plugins as part of the Eternal Madness Sale.
MDoubleTracker is a natural sounding artificial stereo expander.
Need some wide vocals? Or some huge guitars? MDoubleTracker has been designed for just that! Double tracking is a simple old technique, but it's also hard to get it right and takes a very long time, after all, you need to record things multiple times, then you have the timing problems and so on.

With MDoubleTracker it is as simple as inserting the effect into your DAW. It will do some magic by varying pitch and delays in both left and right channels to get you that big wide sound, with ease and perfect timing. It can be even used in surround environment.
MFreeformAnalogEq is a unique equalizer, that allows you to draw any frequency response you wish and then attempts to match the response by applying analog filters using MeldaProduction's Filter Adaption technology (MFA).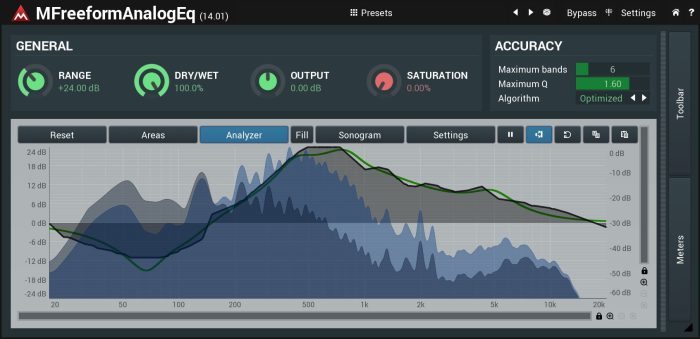 If the response you draw can be achieved using analog filters, then MFreeformAnalogEq will create it for you so now there's no need to worry about complicated parametric equalizer settings anymore.

MFreeformAnalogEq combines an extremely quick and easy-to-use interface with the highest analog audio quality available.
MGranularMB is an extremely versatile granular resynthesizer, which can make your lead sound like a pad, make your drums more powerful and much more.
The plugin cuts your audio material into small pieces and creates a whole new material from them, in multiple bands as usual.

Besides standard panorama and pitch shifting, the plugin can also perform true graph based transformations, adjust pitch of each grain to harmony, layer up to 20 of them at once creating a true grain clouds. And that's just a beginning…
The MVocoder vocoder plugin is capable of robotic voices, singing synthesizers, and morphing between multiple audio materials.
MVocoder is a true analog filter based vocoder, which supports up to 100 bands, up to order-10 filters, band matrix, band distribution and resonance graphs, morphing and other special vocoding modes plus much more.

Optimized to be easy to use, but incredibly versatile for those who want to be really creative.
The plugins are on sale starting from $27 USD until March 16th, 2020.
More information: Meldaproduction