Plugin Boutique has announced a 60% discount on the Bad Tape tape saturation audio effect plugin by Denise.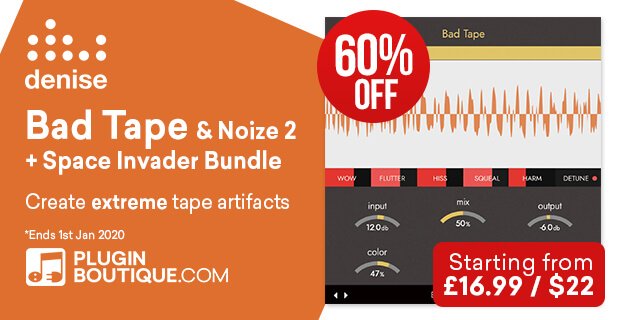 Combining a good old vintage tape sound with harming features makes the Bad Tape a very creative and versatile tool. Want an "out of tune and off the grid" beat or a wonky drum groove? Just keep the detune button pressed and it will create a tape-stop in real time.

Press it shortly for slight slow-downs and speed-ups, or use wow and shake to make it go in and out of tune and go off-grid periodically. Use the mix knob to create tracks that are heavily saturated and detuned, with additional interesting tape artifacts like hiss, squeal and harm.

The Bad Tape can be used to colour and detune your whole track, or it can be applied to just one bar at the end of a section to help introduce some variation and lead in the next section of your song.
Bad Tape is on sale for £16.99 GBP / $22 USD until January 2nd, 2019.
A bundle of Bad Tape, Noize 2 and Space Invader is on sale for $47 USD during the promotion.
Explore an innovative take on tape saturation, noise generation and rhythmic flanging with three of denise's most critically acclaimed plug-ins..
More information: Denise