Audio Plugin Deals has launched a sale on the Trailer Bundle, a collection of 4 epic sound design libraries from Audio Imperia at a 69% discount!
The bundle includes Scenes from the Multiverse Vol. 1, Shredders Vol. 1, Trailer Guitars Vol. 1 and Traveler Aurus.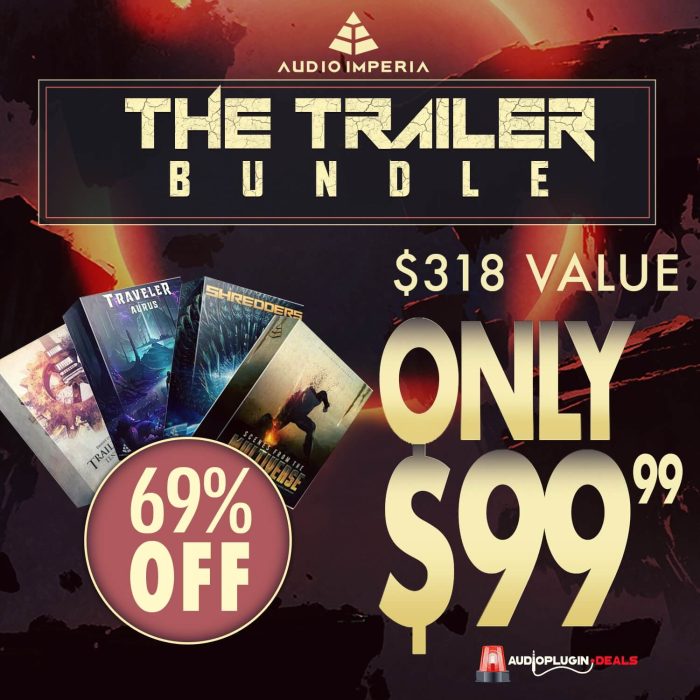 These libraries were specifically designed for superhero movies and modern action campaigns with electronic music elements.

All 4 sample libraries are in high definition format and delivered via Continuata Connect for convenient and reliable download. All libraries require the full retail version of Kontakt. You do not want to miss this amazing deal, hurry and save!
Trailer Bundle features
7.8GB installed size.
Over 1,300 samples included.
High definition audio quality (includes 48/24 Wav files).
Custom Kontakt Engine & GUI.
Detailed Soundminer Metadata.
Convenient and reliable download via Continuata Connect.
Requires full retail version of Kontakt.
The Trailer Bundle is on sale for only $99.99 USD until April 16th, 2018 (regular $318 USD). After completing your order, $20 USD will be instantly added to your Rewards Wallet which you can use for any product in The Shop.
More information: Audio Plugin Deals