Plugin Boutique has launched the Pitchmap & Stutter Edit Bundle, comprising two of the most ground-breaking sound manipulation tools out there.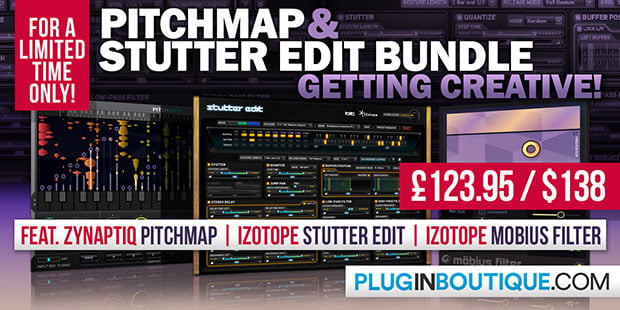 Zynaptiq PITCHMAP is the world's first and only plug-in that allows processing the pitch of individual sounds within mixed signals in real-time. It lets you change the melodies and harmonies of any recording by simply playing your own on a MIDI keyboard or creating a pitch map using our stream-lined GUI, and optionally corrects any tuning issues at the same time. As if that weren't enough, PITCHMAP provides functions to suppress individual sounds within a mix, and can apply advanced synthesizer-like sound transformations to your audio. In short, it is an inspiring musical instrument, a precision corrective tool and the only processor that literally lets you shape music with your hands.

iZotope's multi-effect monster, Stutter Edit allows you to play effects like an instrument for creating fills, edits, transitions, breakdowns and risers with the press of a few keys! iZotope's Stutter Edit has now established itself one of the most popular effects plugins on the market, finding a home in the collection of most producers and DJs due to its great sound, versatility and multitude of uses both in the studio and on stage. Additional movement and sound sculpting can be obtained with iZotope's Mobius Filter's infinitely ascending or descending filter sweeps.
The Pitchmap & Stutter Edit Bundle is time limited and exclusive to Plugin Boutique, priced at £123.95 GBP / $138 USD.
Check the Bundles+ page for more exclusive bundles featuring award winning plugins at great savings.
More information: Plugin Boutique / Pitchmap & Stutter Edit Bundle