Plugin Boutique has launched a sale on two recent Soundiron instrument libraries for Native Instruments Kontakt.
Bronze Bin is a unique tuned and untuned metallic percussion instrument library, created using common found objects with rather special tonal character.
Bronze is the most popular metal used to create top-quality musical bells and cymbals. So, when we came across this little refuse receptacle of pure brazen bronze, we thought 'What a waste!' Not in the waste-basket sense of the word, but a waste of musical potential. Every edge, curve, face and angle of this bronze beauty creates amazingly complex and unique sounds, full of harmonics, overtones and even undertones.

In much the same way art and practicality intersect in the conventional use of this bin, so do percussion and melody intersect creating an enormous palette from a single source. Producing soft bell-like tones to a raspy wash of colliding frequencies the Soundiron Bronze Bin is a truly unique tuned percussion instrument.
Regularly $29 USD, Bronze Bin is on sale for $19 USD until May 29th, 2019.
Available at a 25% discount, the Hopkin Instrumentarium: Tines & Echoes is a unique hand-crafted tuned percussion instrument created by instrument designer and sound sculptor Bart Hopkin.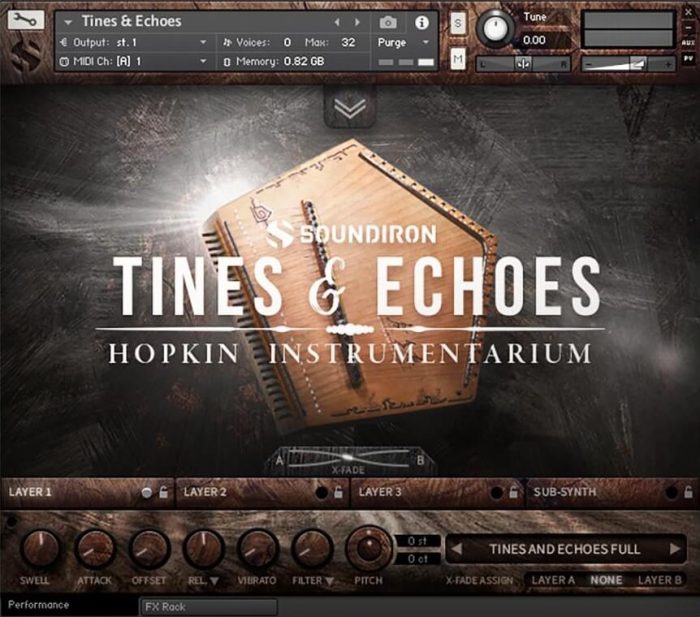 It's a pentagonal sound box with 25 chromatically-tuned metal tines that each have a pair of sympathetic strings spanning the instrument's sound board. Rather than tuning the sympathetic strings to their primary tines, they are tuned randomly, so that vibrations resonate different string combinations bound to other tines. When the tines are plucked, they produce a sharp, crisp water-drop note that reverberates through the sympathetic strings and across the instrument in a soft ghostly ring, reminiscent of the celestial wash you hear when playing the undamped top octave of a piano.

We've faithfully sampled tine plucks and percussive hand slaps on the instrument body, with two stereo mic positions. We also include a wide selection custom FX presets and lots of our signature sound designed ambient and cinematic content, created from the raw acoustic source to give you complete creative freedom.
Tines & Echoes is on sale for $29 USD (regular $39 USD).
More information: Soundiron