Plugin Boutique has launched a sale on Sonible, offering up to 50% off on the smart:reverb effect plugin and smart:bundle.
Powered by AI, smart:reverb is a reverb that truly fits the uniqueness of every creation. Crossgrade from ANY sonible product for only €65 / $65, are get the entire collection of sonible smart plugins for only €179 / $179.
Smart:reverb delivers custom-tailored reverb by adjusting its processing to the individual characteristics of the input material and creates a navigable range of styles from scratch.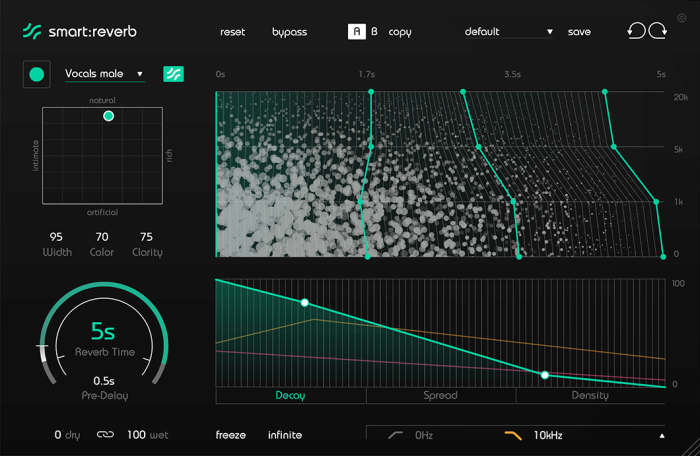 With just one click, smart:reverb analyzes the source material quickly to create every reverb from scratch. By custom-fitting the reverb to the spectral and temporal characteristics of the input signal, typical problems such as disturbing resonances or muddy reverb tails are avoided from the very beginning.

The sonible smart:engine, an A.I.-based, content-aware system designed on the basis of psychoacoustic principles as well as extensive hands-on mixing experience, powers the inner workings of smart:reverb. Just like smart:comp and smart:EQ 2, this intelligent plug-in comes equipped with profiles for different audio sources to prime the processing of the smart:engine to the input signal.
Smart:reverb is on sale for $89 USD / 89 EUR.
Owners of ANY sonible product can crossgrade to smart:reverb is on sale for $65 USD / 65 EUR during the promotion.
The smart:bundle features three of sonible's most successful plugins, smart:reverb, smart:comp and smart:EQ 2.
With these two plugins comes sonible's groundbreaking artificial intelligence that provides informed suggestive parameter settings in a single click, helping you to get the best out of your track with confident, professional EQ and compression results, every time.
The bundle is now just $179 USD. The offers expire October 20th, 2020.
More information: Sonible