Plugin Boutiuqe has launched an exclusive sale on Joey Sturgis Tones, offering discounts of up to 70% off regular on the audio effect plugins from Joey Sturgis.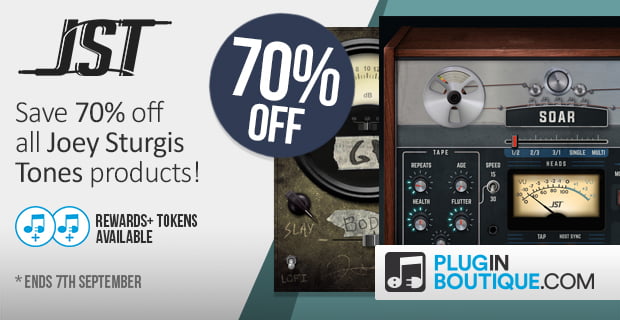 Save a huge 70% off the awesome JST effects and instruments for one week only exclusively at Plugin Boutique!
The sale includes the Finality Advanced and Finality Lite compressor plugins, Gain Reduction Deluxe, JST Clip, Pixelator bit crusher, Sidewidener stereo widener, SubDestroyer, Transify transient shaper, as well as the recently released SOAR tape delay effect plugin.
The offer expires September 7th, 2017.
More information: Plugin Boutique / Joey Sturgis Tones