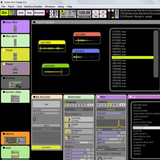 Sensomusic has announced the release of Usine 5.0, a universal audio software especially designed for live or studio utilization.
Usine is made by musicians and audio engineers to respond to their specific problems in a lot of domains like live sampling, effect processing or sound design. Usine is a real musical instrument, flexible and powerful if you like to transform, resample the sound on stage, improvise and create unusual effect.
Changes in Usine v5.0
Gesture and Multi-touch Implementation

– All design modules can receive Multi-Touch and Gesture informations that you can use directly in all the patches to create very ergonomic systems.

Video Tracker Module

– Enables audio interaction with a camera. Motion detection, dark zones and light zones.

Intelligent Auto Wiring

– Fast auto wiring system to build patches faster than ever… For that just Drag&Drop a Module or a VST directly on the wire to insert it in the process chain.

New Grid concept

– The new Grid mode mixes row/cell presentation and interface builder mode.

Surround

– Built-in 16 channels surround mixer and aux buses. If it's not enough, all audio modules can handle up to 64 channels. Direct surround recording in the Sampler

VST's layouts

– Total integration of VST's in personal interfaces. Vst's forms can now be located in controls panels or in interfaces.

Patch window

– The Patching area is now a stand alone window to improve paching in dual screens systems.

New layouts

– Serious improvements of interface building. All controls are now resizable and with new layouts possiblilities.
More than 300 improvements and modifications, especially a new engine, more powerful and lighter.
Usine Pro is available to purchase for Windows PC (standalone/VST) for a promotional price of 90 EUR until March 31, 2010 (regular 120 EUR). An educational license is available for 50 EUR, and a limited but fully functional free version can be downloaded.
More information: Sensomusic