Plugin Alliance has announced availability of an exacting emulation of the original "red" Class A limited edition of the Shadow Hills Mastering Compressor, only ever available in 2012 from Vintage King as a limited edition (limited to just 50 units for the world).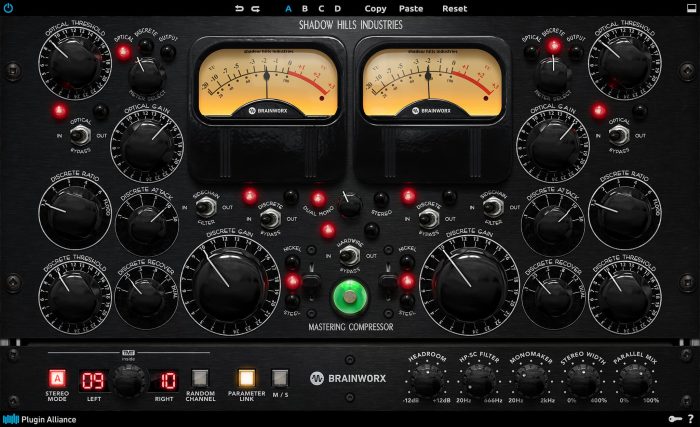 The VCA section is much punchier on this version. Brainworx added even more features to the emulation of the already modded hardware version. The RED version is punchier, faster and more versatile than the GREEN.

With the limited-edition Shadow Hills Industries included an updated Class A discrete compressor section utilizing Lundahl input transformers as well as hand wiring each compressor with Mogami Cable, an important factor when Brainworx Audio modeled one of these limited units as it gave the limited edition version a different character to the original.

During rigorous shoot-out tests against the Shadow Hills Industries Mastering Compressor, our pro audio engineers observed time and time again that the Class A features a smoother compression sound, punchier VCA, a more pronounced sonic dimension and overall larger size and perceived depth. Another interesting difference between the Shadow Hills Industries Mastering Compressor and the Class A version is that with the gain set to identical values on both units, the Class A version clocks in roughly 1 to 3 dBs higher, matching the emulated hardware and as a result, delivering a thicker and richer tone to whatever is running through it.
Shadow Hills Mastering Compressor Class A features
Exacting emulation of the original Class A limited edition of the Shadow Hills Mastering Compressor, endorsed by Shadow Hills Industries.
Class-A discrete compressor section.
Separate Optical and Discrete compression sections for two-stage compression techniques.
Switchable Output Transformers – Nickel, which adds a nice top – end sparkle. Iron, which adds a little character in the mid's, and Steel which adds additional harmonic distortion.
Brainworx Plugin Only Features added to the additional panel: Brainworx´s TMT, Headroom, M/S Processing, Mono-Maker, Stereo Width, Parallel Mix, Sidechain Filter, External Sidechain, Scalable User Interface.
The plugin is on sale for the intro price of $199.99 USD (reuglar $329 USD). Owners of the green version can get the new red edition of $99.99 USD. The plugin has also been added to the MEGA Bundle at no extra cost.
More information: Plugin Alliance