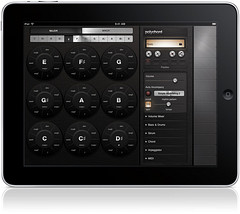 Shoulda Woulda Coulda has released Polychord 2, a music app for the iPad.
Polychord is drums, bass, chords, and accompaniment all wrapped into one.

Simply press one of the chord circles and your on you're way to writing a song. Drums and bass follow the chords automatically, but the coolest part is probably the strum keys on the right: simply swipe your finger over the yellow keys (or chrome keys in version 2) to strum a chord.
Changes in Polychord 2
Record and share songs with SoundCloud.
Sleek new UI made in collaboration with Jonas Eriksson.
Palettes, so you can save your settings.
Palette f-keys, for fast switching between palettes.
Sine, Sawtooth, Triangle and Square Waves for each instrument. (We used an 'analogue simulation' technique for generating the synthesizer waves, which warms them up a bit.)
Bitshift features for drums: full control over the reduction of bits / bitrate, allowing you to completely decimate the sound or just add a touch of noise.
Basic low-pass filtering, resonance for each instrument.
Tremolo Depth controls.
Scale mode for the strum keys: rather than the strum keys playing the notes of the current chord, you can set them to numerous other scales.
Arpeggiator based on time-signatures. Full control over the speed and count of the arpeggiator — allows you to mix a different time signature over the beat. Arpeggiator now has all of the same synth controls as the other instruments.
The UI now highlights the last chord you pressed, rather than always highlighting the root-note.
Octave control for every instrument.
Precise BPM control, with text input.
A global on/off switch for Auto Accompany.
File manager for renaming/deleting/loading palettes, songs, etc.
Pitch bending on strum keys (sends out MIDI too).
Skins panel lets you switch back to the classic color scheme.
Polychord 2 is available to purchase for $9.99 USD.
More information: Polychord