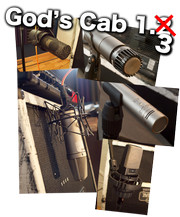 Signals Audio has released version 1.3 of God's Cab, a free impulse response library.
God's Cab is a package of high-quality Mesa Oversized Rectifier Cab Impulse Responses (IRs). These can be used to emulate a Mesa OS Rectifier guitar cabinet through software plug-ins.

To use them you will need a plug-in to simulate an amp head, such as LePou's Lecto, and then you will need a convolution plug-in to load the IR files, such as LePou's LeCab.
God's Cab v1.3 features
700+ Mesa OS IRs (.wav).
Axe-FX ready files (.syx).
44.1, 48, and 96 khz sample rates.
All IRs truncated to 1024 samples (except rooms).
Detailed manual.
God's Cab is available as a free download from Signals Audio.
More information: Signals Audio