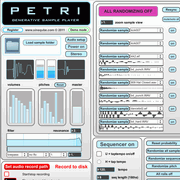 Sineqube has released Petri, a sample player that generates its own sequences and selects up to eight random samples from a folder of your choosing.
It was designed to create glitchy, IDM-inspired drum patterns very quickly. More than simply creating randomized sequences, Petri uses a series of probability algorithms that respond to however sparse or dense you would like the patterns to be, simply by dragging a slider.

If you prefer, all randomization can be turned off, and Petri can instead be used as a traditional sample player with sequences input by hand using a familiar 8×8 matrix editor. With a quick-start guide built into the program, mouse-over hints over most features, and a full manual, you'll be creating patterns that rival your favorite electronic musicians in no time.
Petri v1.0 features
Probabilistic randomization — control how sparse or dense you want your randomized sequences to be.
Randomized pitch, sample choice, sequencing, and granular playback makes creating unpredictable percussion loops an effortless walk in a serendipitous park.
Load a folder of aif or wavs to populate 8 channels of sequencing.
Disengage all randomization to use Petri like a traditional sample player.
Familiar 8 x 8 sequence grid enables quick sequence building on the fly.
Hot keys for most-used functions allow for easy live performing.
Extensive mouse-over hint system, quick start guide, and full manual makes Petri very easy to learn.
Signal-rate synced tempo provides accurate timing.
Tap-tempo.
Auto-filtering with randomization features.
Preset saving.
Record to disk.
Petri for Mac is available to purchase for $30 USD.