Sir Elliot has released Eighteen Band Graphic Equaliser, a free equalizer effect plug-in for Windows.
The 18-Band Graphic Equaliser performs best on midrange, which appears to be a dieing art in a lot of commercial music these days.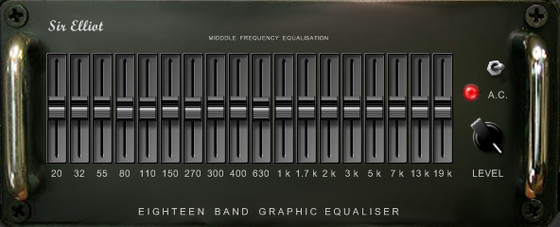 Sir Elliot Eighteen Band Graphic Equaliser
Eighteen Band Graphic Equaliser features
18 selectable frequency bands ranging from 20 cycles to 19,000 cycles.
Level Control.
A.C. Switch.
LED Power Indicator.
Adjustable Frequency Range: 20 – 19,000 kHz.
Frequency Bandwidth: 5 – 24,000 kHz +/- 2.4 dB.
Note: Frequency Bandwidth is based on 88.2, 96, 176.4, 192 and, 384 kHz sample rates.
Optimised for high sample rates ranging from 88.1 kHz – 384 kHz, however will perform fine on lower sample rates such as 48 – 44.1 kHz.
Fixed Delay.
Power Consumption: 44.1 kHz: 5.9 % / 88.2 kHz: 12.3 % / 96 kHz: 15.0 % (based on a Pentium 4 single-core 2.8 GHZ computer using Windows XP (Non Service Pack) operating system).
Sir Elliot's Eighteen Band Graphic Equaliser is available to download as a freeware VST effect plug-in for Windows PC.
More information: Sir Elliot