A new music platform aimed at musicians, Slooply offers high quality sound samples in exchange for a monthly subscription fee.
Similar to Splice Sounds and Sounds.com, you get access to hundreds of thousands of sounds, categorized by genre, type, key, or artist. All available sounds are of studio quality WAV format.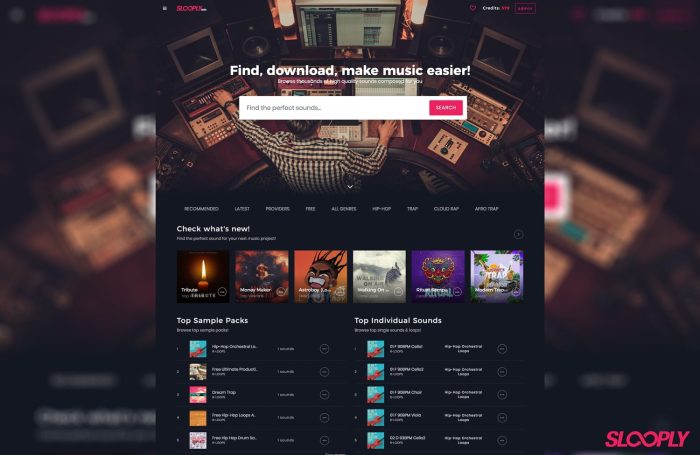 By creating an account, you get a free subscription plan that allows you to download the sounds from the FREE section. This lets you familiarize yourself with the platform and try out its operation, as well as makes it easier to choose a package appropriate to your individual needs.
You get access to all sounds by choosing one of the paid subscription plans, at prices starting from $7.99 USD for 120 credits. One downloaded sound is one credit from your subscription plan.
The downloaded sound is forever yours, and each subsequent download of the same sound file is free. Slooply's library is updated daily with new sounds and samples.
Slooply features
Hundreds of thousands of studio-quality sounds and samples gathered in one place.
Easy search for sounds by key, genre, instrument or type.
Downloading individual sounds that perfectly match your music projects.
Try before you buy, download sounds for free.
Content-related and technical support from the Slooply team.
A library of sounds updated every day.
Up-to-date information about new music releases provided to users.
Slooply offers secure and convenient payment methods using PayPal or a credit/debit card. The subscription plan is automatically renewed each month and you can cancel your subscription at any time.
More information: Slooply