Softube has announced that its Tube Delay is now available as a synth module in Softube Modular.
This super cool echo can create anything from realistic room echoes to rockabilly style slap backs—or take it all the way into dub reggae echo madness!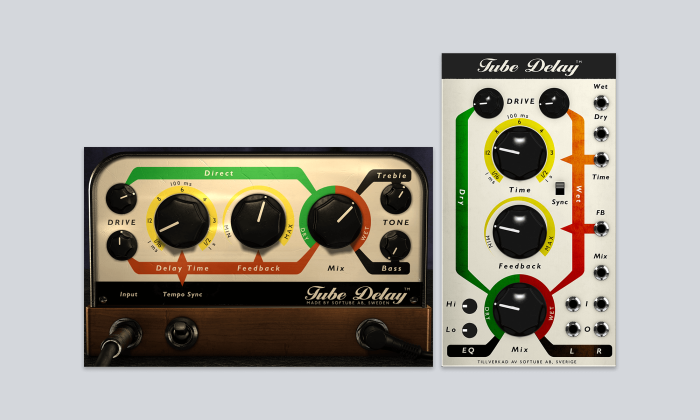 Modular synthesis is all about options; defining options by building a system one way or another, and exploring the sonic possibilities those options afford you.

Tube Delay, newly ported to work seamlessly in your Softube Modular system, is an exciting option to be sure.

Drawn from an old guitar-amp design, the three separate tube-drive sections and universal tone-stack allow wide and independent control over both the dry and wet portions of your signal to give everything from a tight slapback to an endless distorted dub delay tail, adding color, weight, bite, and personality to any source.

And now you can CV control the amount of drive, the blend of wet and dry, the amount of feedback, even the length of the delay itself, to create new and innovative effects. Imagine, say, sending a low-frequency saw-tooth wave to control the tube drive of the dry signal alone, for a pulsing growl. Or use a simple drum loop with an envelope follower to control the frequency of an LFO, which in turn controls the feedback on the drum loop's own delay tail. Think of the options!
The Tube Delay module is part of the same license as the plugin (VST/AU/AAX), so owners of the plugin version can now use it at no additional cost.
New users can purchase Tube Delay at a 50% discount from Softube and distributor Plugin Boutique, priced at only $45 USD excl. VAT until June 15th, 2018.