Cmusic Production has announced the release of Solo Clarinet, a virtual clarinet instrument library for Native Instruments Kontakt.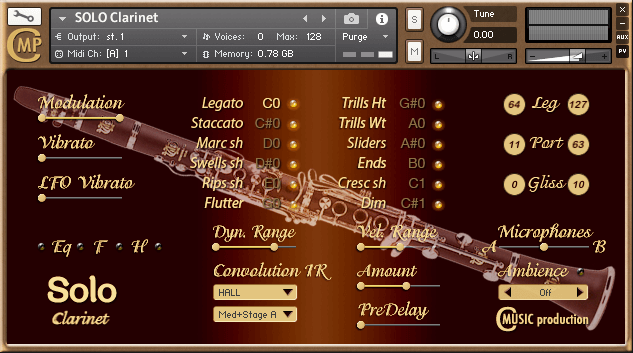 The SOLO Clarinet Kontakt library is designed to allow the user to realistically simulate almost any melody that a real clarinet in any style can play – whether it's jazz, classical or folk.

It was recorded using two microphones (A is a large aperture with a cardioid pattern, and B is a ribbon microphone with an eight). This allows you to change the balance between the two microphones to achieve a more suitable tone.
Solo Clarinet features
Legato, Portamento, Glissando Velocity control.
3-x round robin sustain non vibrato for each note (6 layers).
Sustain vibrato for each note (5 layers).
3-x round robin staccato for each note (5 layers).
3-x round robin marcato short and long for each note (4 layers).
2/4 and 4/4 tempo sync swells (120 bpm default, 2 layers).
Rips chromatic short, medium and long (3 layers).
Crescendo short and long.
Diminuendo, pfp.
Trills HT, Trills WT, Flutter, Growl, Sliders long and short, Ends.
Fast trills between notes in octave range.
Humanize function.
3.26 GB on disc, 5 271 samples, 44.1 KHz / 24-bit.
Solo Clarinet is available for the intro price of $51.35 USD until October 31st (regular $79 USD). Requires Kontakt 5 or higher, full version.
More information: Cmusic Production