Sonible has announced the return of the Balancer plugin, an audio processor that brings out the best in any source signal. A collaboration with Focusrite, it is designed on the principle that a creative producer's time is best spent shaping their sound, not getting bogged down in the technicalities.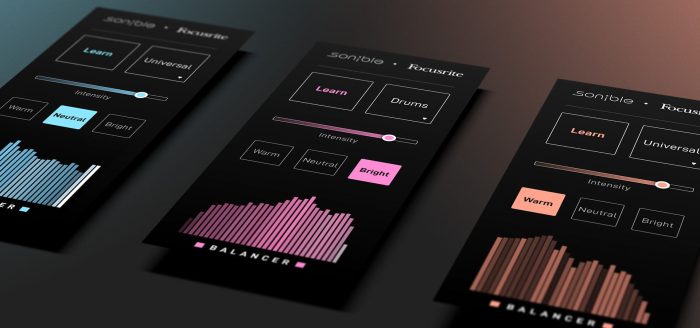 Balancer epitomizes that approach, delivering powerful results, fast, with a simple user interface. At the heart of Balancer is Sonible's smart:engine, which is also behind smart:comp, smart:EQ 2 and smart:EQ live.
While listening to any audio material for a couple of seconds, the plug-in gathers detailed information crucial for the mixing task at hand. By combining and interpreting this information using A.I. technology, deficiencies in the signal (e.g. regarding the spectral balance) are detected and automatically corrected.

Profiles add even more flexibility to the system by optimizing the algorithm for different source signals. By telling the smart:engine what kind of instrument or voice it's handling, choosing a suitable profile ensures a perfect adaptation of the analysis to the respective input signal.
Balancer is a free download from Sonible until April 13th, 2020. It comes in VST/VST3, AU and AAX plugin formats.
Sonible has also brought back its Arcade Game, in which you can play a Flappy Bird type game for fun or to complete for a free plugin.
We've dug up our Arcade Game (be warned: serious 80s vibes)! The person who achieves the daily high score, will win one of our plug-ins. The winner will be determined every day at midnight (UTC) and notified the next day via the given e-mail address. See here which plug-in you can win each day. So, warm up your fingers and use one of your arrow keys to get the ball bouncing.
More information: Sonible