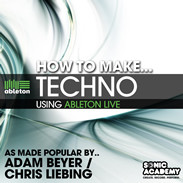 Loopmasters has released How To Make Techno Using Ableton Live, a series of video tutorials by Sonic Academy.
Transform your beats into a hard hitting techno sound in this How To Make Techno course for Ableton Live 8. Learn everything from programming your drums to completely transforming them using New York Style compression.

You will be shown from the ground up how to create a driving techno tune using toms, distorted kicks, bitcrushed bass patterns and making use of some extreme swing patterns using Abletons Groove feature.
How To Make Techno Using Ableton Live features
Lesson 1 – Drums – Begin by bringing in 3 different kick drums into a Drum Rack and tweaking them to get the best sound.
Lesson 2 – Drums Part 2 – Import the rest of the drum hits to the Drum Rack, and apply some Swing.
Lesson 3 – Drum EQ & New York Compression – Apply EQ & subtle compression to the drums before creating some New York Style compression techniques.
Lesson 4 – Percussion 1 – Add in some percussion elements using the Simpler and the Drum rack, making use of the groove features in Ableton Live 8.
Lesson 5 – Percussion 2 – Yet more percussion elements for the tune.
Lesson 6 – Percussion 3 – Add in some white noise using the Simpler device.
Lesson 7 – Bass (Sylenth) – Program in a sub bass using the Sylenth1 VST.
Lesson 8 – Bass (Simpler) – Set up the simpler device to import some bass samples.
Lesson 9 – Synth Programming (Sylenth) – Program the Sylenth to create a synth part.
Lesson 10 – Synth (Simpler) – Import some samples into a simpler device for creating a synth part.
Lesson 11 – Strings – Add in a string sound making use of Abletons Simpler device.
Lesson 12 – Send / Return FX 1 – Create some send / return fx including a Grain Delay and some Room Reverbs.
Lesson 13 – Send / Return FX 2 – Create a massive reverb for adding atmosphere to the mix.
Lesson 14 – Arrangement Part 1 – Arrange out the first part of your song.
Lesson 15 – Arrangement Part 2 – Further arrangement.
Lesson 16 – Arrangement Part 3 – Arrange out to the breakdown.
Lesson 17 – Arrangement Part 4 – Arrange the breakdown section of the tune.
Lesson 18 – Arrangement Part 5 – Arrange out to the end of the tune.
Lesson 19 – FX 1 – Add in some sweeps and crashes to blend the tune together.
Lesson 20 – FX 2 – Add in some more fx sweeps, followed by a reverb trick to blend your parts together better.
How To Make Techno Using Ableton Live is available to purchase from Loopmasters for £29.95 GBP.
More information: Loopmasters / How To Make Techno Using Ableton Live