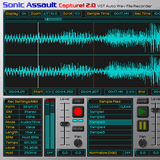 Sonic Assault has released version 2.0 of Capture!, a free Auto 16/24/32-bit Wav File Recorder plug-in for Windows.
Improvements over version 1.0 include 'Point and Click' mouse cueing and replay, and time readouts are now in minutes/seconds/milliseconds.
Capture! v2.0 features
16 / 24 / 32 / 32-bit Float Recording and Playback.
Stereo / Mono L / Mono R / Mono L+R Recording.
0.001 sec – 10 Minute Recording Time.
Selectable Notation Values / Seconds Recording Time Settings.
Host / Manual Tempo Settings.
Audio Input Triggered / Host Triggered / Manual Record.
Normalised Audio Output Option.
Looped Playback.
Point and Click Cue / Replay.
User Adjustable Wave Display.
Audio Input Level Clipper.
8 Sample Slots.
External MIDI Control of Recording and Playback Controls.
16 User Patches.
Capture! 2.0 is available to download as a freeware VST plug-in for Windows PC.