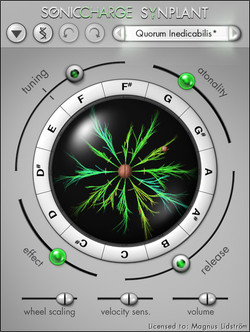 Sonic Charge has released version 1.0.1 of Synplant, an innovative software synthesizer with a genetic approach to sound creation.
Instead of creating patches the conventional way by turning dials and knobs, Synplant lets you explore a world of organic sounds by planting seeds that grow into synth patches.
Changes in Synplant v1.0.1
Implemented support for the "all notes off midi message". Some hosts (most importantly Cakewalk Sonar) require this to stop notes from playing. In other words, the hanging note problems in Sonar should have been fixed now.
Improved compatibility with older VST 2.3 hosts, including FXpansion's RTAS wrapper (VST 2.4 is still the official requirement, this version of Synplant is expected to work well with the RTAS wrapper.
Fixed a rare but serious problem with the GUI freezing up on Mac (never to defrost again, never to come back to life). Turned out to be a bug in Synplant in combination with some unexpected behavior from OS X.
Some minor updates to the internal code libraries that will improve stability in general.
Sonic Charge has also released Crop of Year One, the first new patch package since the release of Synplant last year.
This package separates the wheat from the chaff among a year's worth of patch cultivation. 163 patches created by Az're-ul, elv, Elxicano, eXode, Hint, Magnus Lidström, rsmus7 and Tore Jarlo.
Crop of Year One is available as a free download for all registered Synplant owners.
More information: Sonic Charge