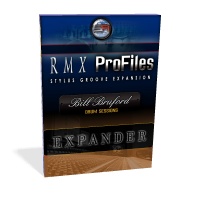 Sonic Reality has released 8 new Groove Expanders for Stylus RMX.
These loop collections from the Studio ProFile series feature legendary studio drummers playing acoustic drum grooves with their unique style and feel. All paks are available now EXCLUSIVELY in downloadable delivery at http://www.esoundz.com.
Sonic Reality's RMX ProFile Paks
John Blackwell : John Blackwell is one of today's hottest Pop/R&B/Hip Hop drummers both live and in the studio. He's played with Prince, Diddy, Patti Labelle, Lauryn Hill, Cameo and is currently touring with Justin Timberlake's "Future Sex Love Show". John is known for flashy light speed drum riffs and tight funky drumming that suits many different styles of music.
Jerry Marotta : Jerry Marotta is a world class drummer who has worked with Peter Gabriel, The Indigo Girls, Hall and Oates, Tears For Fears, Elvis Costello, Paul McCartney, Todd Rundgren, 10,000 Maniacs, Sarah McLachlan, Suzanne Vega, Dream Academy and many more. From big African rhythms on his Yamaha and Taos drum kits to inventive rock grooves with his unique style and feel.
Steve Gadd : Steve Gadd is a legendary session drummer who has worked with Paul Simon, Steely Dan, Aretha Franklin, Stevie Wonder, Joe Cocker, Bob James, Chick Corea, Al Di Meola, Paul McCartney, Eric Clapton, Manhattan Transfer, James Taylor and many more. Steve Gadd is one of the most recorded drummers in history. He was born April 9, 1945 in Rochester, New York and has been playing drums professionally for over 37 years.This Apple Loops Pak offers a range of drum and percussion loops with authentic latin flavor in the styles of Mambo, Salsa, Songo and more. From individual and combined percussion such as congas, bongos, shakers, handbells, guiros, clave, maracas and more to full drum kit grooves, this collection can add spice to any music production.
Bill Bruford : Bill Bruford is a drummer known for innovative playing with classic rock and jazz groups such as Yes, King Crimson, UK, Genesis, Patrick Moraz, Al Di Meola, Chick Corea, ABWH and many others.
Danny Gottlieb : Danny has worked with numerous jazz and rock artists such as: Jeff Berlin Trio; Gary Burton Quartet; Stan Getz Quintet; Pat Metheny Group; Blues Brothers Band, Sting, Bobby McFerrin Trio; Eddie Gomez Group; Michael Franks Band; John McLaughlin's Mahavishnu Orchestra; Al DiMeola Project; Mike Stern Trio; Manhattan Jazz Quintet; Manhattan Jazz Orchestra: GRP Big Band; Gary Sinise's Lt Dan Band; Joe Beck Trio; Big Band; NDR Big Band; Randy Brecker Quartet; Booker T and the MG's; Pete Levin Trio and many more…
Bun E Carlos : Bun E. Carlos is a pioneering alternative rock drummer from the band Cheap Trick. He has also played with John Lennon, Rick Nielsen, Robin Zander, Tom Petersson, Jack Douglas, Tom Werman, Ian Taylor, Paul Klingberg, Jon Brant, George Martin and many others. His thrashing exciting and energetic pop-rock-punk drumming never goes out of style.
Ed Greene : Ed Greene is a diverse funk, disco, jazz, rock and pop drummer who has played on classic albums by Steely Dan and Donald Fagen as well as Frank Sinatra, Mamas & The Papas, Four Tops, Diana Ross, Pointer Sisters, B.B. King, Hall & Oats and countless others. His grooves are known to be tight and in the pocket.
Nick D'Virgilio : Nick D'Virgilio is one of the premier modern rock / progressive rock drummers on the scene. He has worked with Genesis, Spock's Beard, Tears For Fears, Kevin Gilbert, Jordan Rudess, Mike Keneally, as well as numerous other side and solo projects. Nick delivers everything from solid pop grooves to quirky odd time signature prog grooves.
These new Groove Expanders for Stylus RMX are available for download now for $69 USD each.
Visit eSoundz for more information and audio demos.