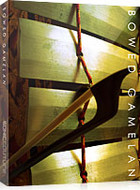 Soniccouture has announced the release of Bowed Gamelan, the third free instrument in Soniccouture's Exclusive Content series.
Following a Soniccouture tradition of playing instruments the wrong way, we present this unique library of a Bowed Gamelan instrument. This library is actually made from just one instrument of the gamelan ensemble, the ugal. This is pitched in the middle of the gamelan range, and so is quite versatile and generally leads the gangsa section of a traditional Balinese group. This instrument has 14 keys which cover a range of almost 3 octaves.

The metal Ugal keys were bowed using a standard cello bow, vertically across the thin edge of the metal. Instead of a conventional microphone, a Trance Audio Trance Inducer contact mic was used. This gives the sound an incredibly detailed, surgical scraping quality.
Bowed Gamelan features
24 bit 44.1khz Sampling.
Total of 140 samples. The samples are looped with a bow change included in the loop, for a natural sounding sustain.
5 Alternate round robin samples per note.
Key-off samples.
Formats: Kontakt, EXS, Ableton Live.
Bowed Gamelan is available as a free download with every 3rd product purchased since the new Soniccouture site launched in August.
More information: Soniccouture / Bowed Gamelan