Soniccouture has launched version 2 of Morpheus, a percussion instrument library for Native Instruments Kontakt.
Morpheus is the first in a series of NKS reboots. The complete upgrade comes with three KSP generative sequencers, performance tools and a full effects setup, making this an ambient percussion powerhouse.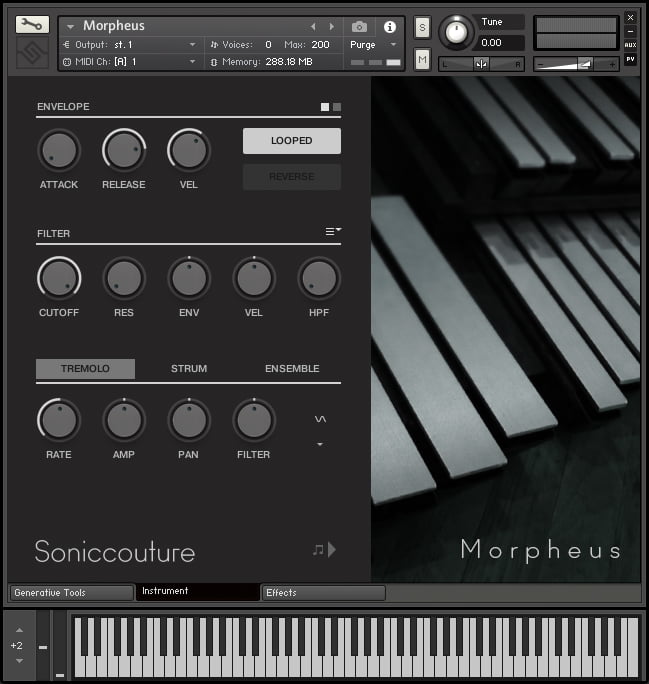 Named after the Greek god of dreams, the Morpheus is an aluminum percussion instrument made by the US company Freenotes.

The instrument is modular; the keys can be rearranged in any order you like, as each metal bar is attached to its own tuned resonator.

The aluminium gives Morpheus one of the purest percussion sounds you will hear – add tremolo and it sounds very much like a vibraphone, but with an extra 'glass-like' quality.
Morpheus v2 features
1.6 GB sample library, 24-bit/44.1Khz stereo sampling.
3 Velocity layers, 3-4 Alternate Round Robin layers.
Generative Tools: KSP Calder ambient pattern generation tool, KSP Jammer generative arpeggiator, KSP Chord Mutation randomly evolve a single chord over minutes or even hours.
Performance Tools: KSP Strummer allows you to 'strum' or sweep notes across the keyboard, KSP Ensemble doubles and detunes layers for a classic effect, KSP Tremolo Module pitch, filter, and volume tremolo.
50 snapshot presets, percussusion and sound design.
Requires KONTAKT 5 or KONTAKT 5 PLAYER version 5.6.8 or later.
Also compatible with Maschine & Komplete Kontrol (NKS).
Morpheus is available for 69 EUR. Until May 11th, 2018, you can save 40% off with coupon code REDPILL at checkout.
More information: Soniccouture