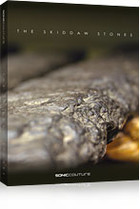 Soniccouture has released The Skiddaw Stones, a unique new sampled instrument for Kontakt, EXS24 and Live.
A Lithophone ( litho = stone, phone= voice ) dating from 1840,The Skiddaw Stones are composed of 61 tuned and shaped rocks, made from the rare hornfels stone, found in Cumbria, England. Created by Joseph Richardson, a stonemason and musician, it took almost thirteen years to collect and shape enough individual notes of hornfels to make an eight-octave range. The massive task of assembling this instrument consumed Joseph so absolutely that he and his family were reduced to poverty. Once complete, Richardson and his sons toured Europe as The Rock, Bell and Steel Band, and even performed at Buckingham Palace, by command of Queen Victoria.

The Stones are a permanent exhibit at the Keswick Museum and Art gallery, who very kindly agreed to let us record this rare instrument. The Stones were painstakingly transported to Music Farm Studios, Cumbria, where two different sets of mallets were used to laboriously capture large sets of velocity hits, then an extra articulation was recorded – the sound of the head of the wooden mallet being scraped across the stone surface – a surprisingly haunting and resonant sound.

The result is a truly bewitching instrument, one that sounds truly ancient, even older than it is. Totally unique rock music.
The Skiddaw Stones features
2.5 GB Library – Kontakt Live! EXS24.
24 bit 44.1 Khz Stereo.
12 Velocity layers.
Wood + Rubber mallets.
5 Round Robin layers.
KSP Jammer Script.
The Skiddaw Stones is available for purchase as a download for 59 EUR and on disc for 69 EUR.
More information: Soniccouture