Soniccouture has updated its Tingklik virtual instrument featuring the sounds of a bamboo percussion instrument.
Version 2 of Tingklik is fully Kontakt Player and NKS compatible.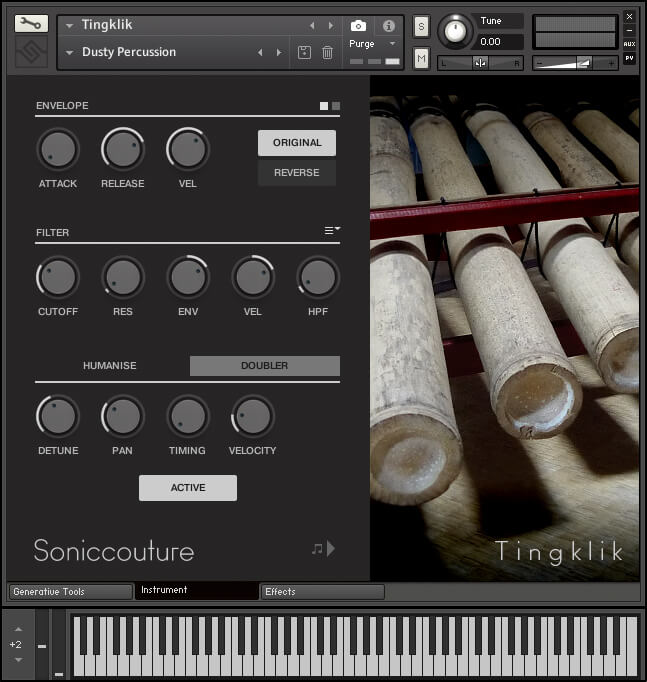 A Tingklik is a bamboo percussion instrument from Bali. It typically has 11 bamboo tubes, although the instrument Soniccouture sampled has 12. With five notes per octave, the range is just over 2 octaves. The tubes are suspended using string over a wooden frame. The player sits on the ground and strikes the bamboo tubes with rubber-tipped mallets.
Changes in Tingklik V2
Original and Chromatic tunings.
Reverse mode.
14 Velocity layers, 6 round Robin alternate samples.
Performance Tools.
KSP Doubler module: a simulation of the typical pair of instruments you might hear in Rindik music.
KSP Humanise Module.
Generative Tools.
KSP Calder – ambient pattern generation tool.
KSP Jammer – generative arpeggiator.
KSP Chord Mutation – Randomly evolve a single chord over minutes or even hours.
Effects.
Convolution processor with 40 IRs for reverb and SFX.
Modular insert chain.
Tingklik V2 costs 89 EUR. Until June 1st, 2018, you can get 40% off with coupon code LPWUTRE9 at checkout.
More information: Soniccouture