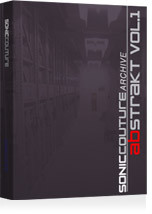 Soniccouture has announced that its first ever library Abstrakt Vol. 1 is now available as a free download.
We have re-released our first product as freeware – the scripting and graphics may look a little old fashioned, but the sounds still sound pretty fresh to us! We include the original scripts – more developed versions of these are to be found in our script product Scriptorium.
Abstrakt Vol. 1 features
250MB Sample library.
16 Bit 44.1khz samples.
64 Kontakt instruments.
5 KSP Scripts.
Kontakt format (v3, 4, 5).
Abstrakt Vol. 1 is available to download at no cost. A Soniccouture website account is required (registration is free).
More information: Soniccouture