sonicLAB has collaborated with Hainbach to deliver Fundamental, a sound synthesis software tool which combines the different roots of electronic music history.
The wave engine of Fundamental is a faithful sonic recreation of a vintage Rohde&Schwartz vacuum tube oscillator, which was widely used at WDR by Stockhausen.
FUNDAMENTAL feels like something Stockhausen, Xenakis and HAL 9000 might have dreamed up after a bender: recalling the past of electronic music through a reimagination of a massive german test equipment vacuum oscillator on a modern instrument.

sonicLAB leaves behind the limitations of the vintage equipment by proposing complex modulation possibilities addressing the sonic parameters like frequency, gain, stereo panning etc. in continuum, which has not been applicable until now.

The Fundamental greets you with a huge eye-like dial. It's easy and fast to set up an impressively rich drone using the plugin's eight voices controlled electronic workshop style through a mixer.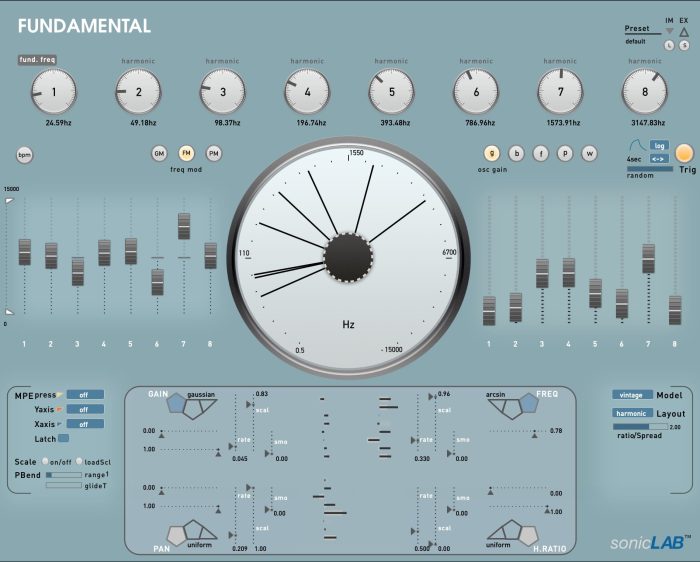 Fundamental features
Unique polymorphing wavetable synthesis without any compromise in data content and precision.
4 dynamic wavetables being rendered for each voice to represent infinitesimal steps of frequency and gain combinations between 1HZ – 3800Hz of the original vacuum tube oscillator.
8 simultaneous voices each with custom freq, gain, boost, panning and modulation settings.
Custom or harmonic frequency distribution of voices with variable spread ratio and tuning table.
4 independent stochastic modulations for each voice (32 in total) addressing all parameters with various continuous, discrete distributions and also standard waveforms.
Full MPE support with various configuration possibilites.
Independent Attack / Release envelopes for each voice with various modes, AR times can be set to degrees of randomness.
Vintage oscillator or pure sine wave mode.
Available in VST3, AU and standalone software for 64-bit Windows and Mac, Fundamental is on sale for the intro price of 49 EUR until July 15th, 2020 (regular 69 EUR). Limited time full functioning demos are available to download.
More information: sonicLAB