Sonicsmiths has announced the release of The Foundry, a new musical sound design tool for Native Instruments Kontakt Player.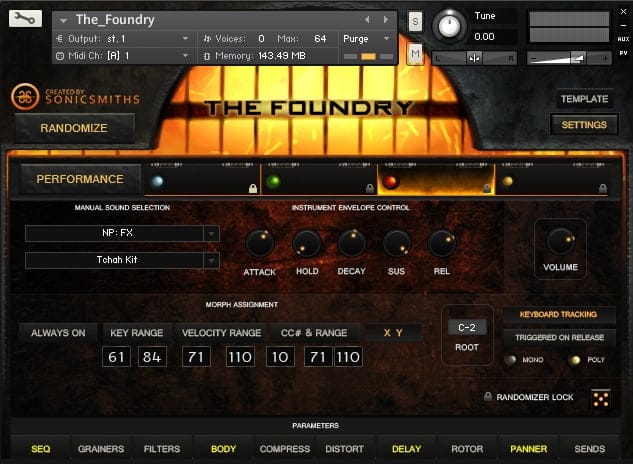 The Foundry is intended for creating uniquely designed sounds without the use of any presets. The AARE (Adjective Assignable Randomizing Engine) allows a user to choose a type of sound they want (Bed/Pad, Textures, FX/Hit, Rhythmics) and then apply a set of keywords (Dark, Mysterious, Organic, Pulsing, etc.) to generate a unique patch that is a user's own.

The Foundry also boasts a new X/Y morph tool (that allows for blending between 4 voices), a 3-mode Step Sequencer, a Granular Synthesis Engine, a Body Designer, LFO and Step Modulators, and 8 different FX (Delay, Reverbs, Distortions, etc).
The Foundry features
AARE – Adjective Assignable Randomizer Engine. Instead of having thousands of presets and having to search through each one for a specific sound, we have designed a randomizing engine that creates a new patch for you based on simple adjectives. For example, if you want a Dark, Pulsing, Mysterious sound, select these adjectives and press a randomizing button and The Foundry will generate new patches based on the parameters you select.
3-Mode Step Sequencer: Depending on use – Rhythmics and FX sound sets, can create unique and quickly designable rhythms OR along with tonal beds/textures can amazing lead lines and creative chordal patters.
4 different Groups to select from ranging from Non-pitched and Pitched and Simple to Complex: Beds and Pads (tonal sustained layers), Textures (a-Tonal, moving material), FX (Single One-Shot Hits, FX, and Short Articulated Instruments), and Rhythmics (Sonic "Kits").
Template Mode: Use to make any sound Pulse, create Drops/Rises or instantly put Foundry into other modes such as long release, hard attack, etc.
4-way Morphing Engine: You can load up to 4 different "core" sounds into The Foundry. Each of these sounds has independent processing, manipulation, and can be morphed via X-Y pad designer, key range, velocity or CC.
X-Y Pad Designer: Create, Save and Sync Playback to your own modulatable pathways using the X-Y pad.
Body Designer. With over 60 different body types, you can manipulate each of the "core" sounds by sending them through different material types, such as tubes, bricks, glass, dog bodies, and More!.
6 assignable modulators to Filters, Pitch, Amplitude, and surround panning allow for a wide range of stuttering, pulsing, frequency modulation, and many standard synthesis techniques.
Graining Synthesis: You can take most of the patches in the library and add the granular synthesis effect, stretching, panning and many other ways of manipulating the sound.
Surround Mode: Set all Four sounds to go out different channels as well as pan in surround.
Unique reverb selections: including Swaps, Churches, Studios, etc.
Fully adjustable Filters, Distortion, Compressors, Delays, Panning Rotators, Surround Routing Abilities, and many more creative tools.
The Foundry is available for purchase from Big Fish Audio for the introductory price of $249 through September 6th, 2015 (regular $299 USD).
More information: Sonicsmiths