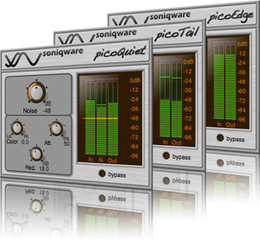 SoniqWare has announced the picoSeries, a series of effect plugins designed with simplicity in mind.
SoniqWare releases picoSeries, a range of plugins designed for maximal simplicity of use while embedding the advanced SoniqWare sound processing algorithms: picoQuiet (noise reduction), picoEdge (attack transient processing), picoTail (release transient processing).
picoSeries features
Single knob operation… plus a few a knobs we really could not manage to drop
Currently three plugins:

picoQuiet noise reduction
picoEdge attack transient processing
picoTail rlease transient processing
… more plugins to come… stay tuned…

Supported sample rates: 44.1, 48, 88.2, 96, 176.4 & 192 kHz.
Stereo operation.
VST automation of all parameters.
Silent controls.
Use of SSE1-SSE5 instruction sets.
The picoSeries plug-ins are available to purchase for Windows and Mac (VST/AU), priced at 34 EUR / $44 USD each.
SoniqWare has also updated its MT-1 Multiband Transient Processor, SG-1 Spectral Noise Gate, and PE-1 Linear Phase Parametric Equalizer with various minor fixes and improvements and the release of AU and VST3 versions.
More information: SoniqWare / picoSeries